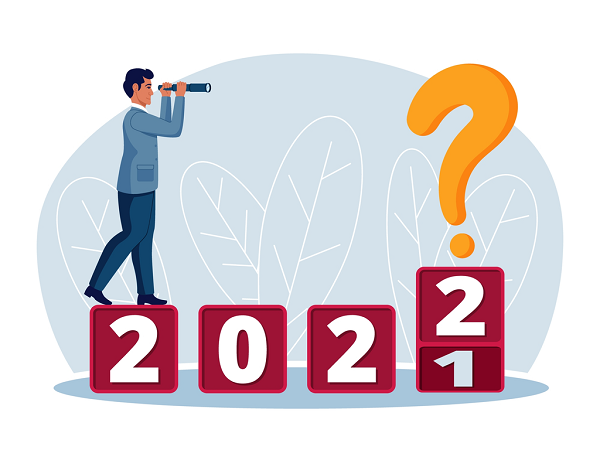 What has the world of IT got in store for us all in the coming year? The Grant McGregor team has put our heads together to produce our top tech predictions for 2022.
The rush to adapt systems in response to the pandemic revealed to us all how fast change can be delivered when it is necessary. This new-found understanding is helping to drive further change and innovation.
Business leaders and IT alike are thinking: we've seen what's possible through necessity – so why not accelerate the adoption of new technologies because of business need?
As a result, work from home, cloud and other much-trailed new technologies are finally filtering down to real-world use cases and these dominate our prediction list for 2022.
#1. Continuance of the work-from home trend
Throughout 2021 it has become clearer and clearer that the work-from-home trend is here to stay. Workers and organisations have seen the benefits – and surveys of public sentiment reveal that those organisations which fail to adapt and integrate work-from-home arrangements into their normal working practices are going to fall behind when it comes to talent retention and recruitment.
The biggest impact in terms of IT relates to the communication tools that are now de rigueur. Productivity apps like Microsoft Teams are here to stay. The take-up of Teams Voice has been massively accelerated. And organisations are shifting away from early-pandemic solutions like Zoom in favour of the more compliant and secure tools offered by Microsoft.
We see this trend towards the integrated mobile device management and communication tools and productivity apps offered within the Microsoft 365 suite continuing and accelerating through 2022 as organisations and users seek out a more seamless and easier-to-manage work-from-home experience.
#2. Cloud adoption will be expedited
As well as the communication and productivity apps we all turned to during the pandemic, cloud computing was the other big success story. Cloud-based apps and tools, as well as cloud-based data storage and backups, have really come into their own during the last 12 months.
We've seen the benefits – as well as the ease of spinning up resources. As a result, many organisations are planning to accelerate or extend their cloud provisioning over the next 12 months.
A report on cloud adoption(1) released by O'Reilly Media in November found that cloud usage was nearly ubiquitous. 90 percent of respondents were using some form of cloud technologies. Furthermore, take-up is growing: 48 percent said that they plan to migrate half or more of their apps to the cloud in 2022.
#3. Employee monitoring tools
Forbes(2) has predicted that another response to the work-from-home trend will be an increased adoption of employee monitoring tools.
We're conflicted about this one. One of the lessons of the pandemic has been how productivity doesn't suffer when people are trusted to work at home. Less supervision and greater freedom have even resulted in improved productivity, according to some.
In January 2021, a CIPD survey(3) found that 33 percent of employers said they felt remote working improved worker productivity levels.
These findings suggest that organisations should be very cautious about implementing such an employee monitoring solution. There is great potential for such monitoring to have a greater negative impact than it does positive. The lack of trust implicit in the implementation of such a solution may cause the initiative to backfire and the risk is that people become alienated and less productive.
#4. Wider adoption of 5G
5G has topped prediction lists for several years now, but it is finally moving into the adoption phase.
Europe's first private 5G network has been built by Vodafone(4) for Centrica Storage Limited, the gas storage and processing unit of UK gas and electricity supplier Centrica. The new private cellular network, at Centrica's Easington facility in County Durham, uses Ericsson radio and core networking gear. The "private and dedicated" spectrum is available to Centrica Storage only for mission-critical monitoring, control and communications.
The development was part of a wider project to support a digital maintenance ecosystem that leverages mixed reality and Microsoft HoloLens so staff on site can connect to a new set of maintenance, operations, and safety applications via their handheld devices. It sits alongside a deployment of LoRaWa technologies to ensure connectivity across the facility.
This type of networking solves traditional problems of connectivity on remote and difficult sites, especially where security and privacy are paramount. There are hundreds of such use cases in the UK alone and, now that the technology is finally graduating from the "proof of concept" stage, we think there will be a real desire for this type of private, high-performance network.
#5. Mixed reality
The Centrica example illustrates the graduation of another new technology to the mainstream. As part of its Easington project, Centrica has been using the HoloLens virtual reality glasses embedded in hard hats on one of its terminals to aid engineers navigate the site and to access and record information. Key maintenance information is presented over the view of the plant.
It's just one example of how mixed reality – augmented reality – have moved from the proof-of-concept stage to full-on adoption in a wide variety of arenas. And it isn't just gamers; a wide range of business and public sector use cases are emerging.
At Alder Hey Children's Hospital in Liverpool(5), Microsoft HoloLens was used in an operating theatre during the pandemic when social distancing meant the usual number of experts could not be crowded in to such small a space. Instead, the Consultant Congenital Cardiac Surgeon leading the procedure used Microsoft HoloLens mixed reality technology to connect with colleagues to agree and change the clinical strategy for the operation – something that would otherwise not have been possible because the operating room was a restricted COVID-19 area.
#6. Citizen development
Accenture(6) says, "successive waves of technological disruption have dramatically changed how organisations create value for customers, employees, and other stakeholders. Cloud, mobile, and SaaS have profoundly impacted the cost and speed dynamics of delivering new digital customer experiences… While this shift towards democratisation has already proven to be powerful, in many ways, it's just a taste of what's to come."
It highlights how the adoption of no-code and low-code software development tools could create "a revolutionary movement even more disruptive than anything that's come before".
If you haven't heard of low-code/no-code platforms (LCNC) before, "they are software development environments that enable people with little or no coding experience to build and modify applications. These platforms empower business users to quickly and easily deliver new capabilities on demand, without having to rely on hard-pressed development teams."
It's all about putting power for app development in hands of line of business staff tasked with carrying out the tasks, rather than with IT staff. With these tools, we can all be truly digital employees.
The success of such initiatives depends on good governance, a clear framework of rules, usually managed from a centre of excellence. You can find our thoughts on the topic here.
#7. Privacy is increasingly important
The EU has set its sight on the regulation of the big tech companies. This November, European ministers green-lit their two new, massive EU rulebooks(7) to tame Big Tech and tackle illegal content online. Economy ministers from across the bloc rubber-stamped common positions on the digital competition and content moderation laws known as the Digital Markets Act (DMA) and Digital Services Act (DSA), at a Competitiveness Council meeting in Brussels.
With the USA and the UK threatening such actions over the last year, it looks like the EU is determined to act where they failed.
The EU has led the agenda in the protection of personal information with GDPR. It seems that it is now leading in the fight to reign in big tech. It will be very interesting to see how the DMA and DSA evolve over the coming year.
#8. Security has to be the number one priority
Finally, as more and more of our lives move online, the importance of a secure infrastructure, secure devices, secure apps and good staff cyber-security awareness training are more important than ever.
As a result, cyber security must stay at the top of all our agendas throughout 2021.

What next?
If you'd like more information about any of the topics raised in this article, please get in contact with our team.
You can call us on 0808 164 4142.
Or you can read our recap about the tech trends that shaped 2021 here.
Then compare it to our 2021 predictions here.


Sources:
1. https://www.scmagazine.com/news/cloud-security/48-of-companies-plan-to-migrate-half-or-more-of-their-apps-to-the-cloud-in-2022
2. https://www.forbes.com/sites/bernardmarr/2021/11/22/future-of-work-the-5-biggest-workplace-trends-in-2022/
3. https://www.hrmagazine.co.uk/content/other/is-working-from-home-as-productive-as-it-seems
4. https://www.vodafone.com/business/news-and-insights/company-news/centrica-storage-chooses-vodafone-business-technology-to-build-the-gas-processing-plant-of-the-future
5. https://customers.microsoft.com/en-us/story/862894-alderhey
6. https://www.accenture.com/us-en/insights/software-platforms/power-to-the-people
7. https://www.politico.eu/article/europe-digital-markets-act-dma-digital-services-act-dsa-regulation-platforms-google-amazon-facebook-apple-microsoft/
Just wanted to say a big thank you to Dan for his help today. Above and beyond and very patient with a beginner like me.

- Read in full
Pegasus Couriers
Daniel Floyd, Pegasus Couriers