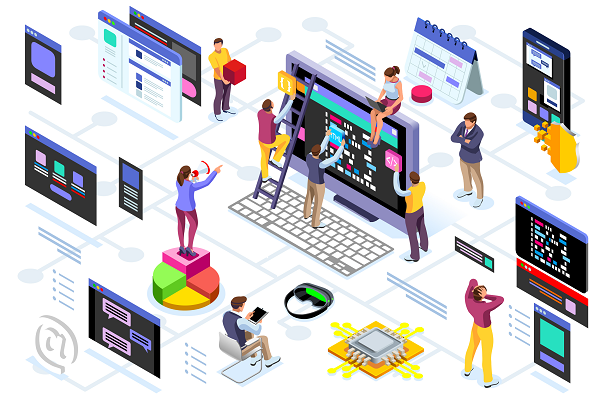 If you haven't yet heard the phrase "citizen development", you can expect that to change in the coming months. Citizen development is set to become the latest IT buzzword… but it is more than that – it can have some rapid and far-reaching benefits for your business.
Tech Target defines citizen development as "a business process that encourages non-IT-trained employees to become software developers, using IT-sanctioned low-code/no-code platforms to create business applications".
It sounds a little scary – but don't worry: it isn't.
Effectively, citizen development is the realisation of a long-wished for outcome: it puts the power to develop software in response to business problems in the hands of line of business staff, rather than the IT department.
The idea is that, in this way, the business can respond faster to business need and have greater freedom to innovate.
What are the benefits of the citizen development approach?
Tech Target lists the benefits of the citizen developer approach to software development as:
• enabling employees to create and customise existing software programmes to suit their specific needs and improve operational efficiency.
• speeding up innovation and the application development process, reducing backlogs and freeing IT personnel to prioritise and grapple with more pressing business-wide issues.
• addressing security problems associated with shadow IT and third-party apps through transparency, resource sharing and monitoring among citizen developers and IT professionals.
So far, so great – but how is it achievable?
How to empower your staff to be citizen developers
The ability to enable non-technical staff to become software developers rests on the implementation of user-friendly tools for application development.
That sounds difficult but, in reality, you probably already have these tools at your disposal.
Enterprise users of the Microsoft 365 suite of office and productivity products will have a certain number of Power Platform licences included in their subscription.
Power Platform is Microsoft's answer to the citizen developer approach: it is a series of low-code and no-code tools that enable line of business staff to create software solutions for data insights, automation and even virtual agents.
What is Microsoft Power Platform?
There are four main tools included within the Power Platform family(1).
These are:
• Power BI – for creating data-driven insights and sharing them via reports and visual dashboards.
• Power Apps – a no-code way to build custom apps that solve business challenges.
• Power Automate – you might know this as Microsoft Flow (its previous incarnation). This low-code/ no-code tool gives staff the ability to automate organisational processes.
• Power Virtual Agents – easily build chatbots to engage conversationally with your customers and employees with no coding required.
Together they offer a wide range of capabilities to empower non-IT staff to use technology to solve business challenges.
What are the best practice tips for using Power Platform?
Organisations may be nervous about handing over the power to create software to employees with no formal technical training and without the oversight of IT.
The strength of the Microsoft tools is that the underlying technology and security of the Microsoft platform offers considerable peace of mind.
On its blog, Microsoft states(2): "As low-code and no-code platforms usher in the digital revolution in the enterprise, security architects and admins want the ability to ensure that their data is safe. Power Platform is built on Microsoft security standards including the strong security and compliance features of Microsoft Azure and Microsoft Azure Active Directory (Azure AD). We have released many targeted security and governance capabilities that enable environment- and tenant-wide data exfiltration governance, fine-grained data loss prevention rules for connector actions and endpoints, as well as Data Loss Prevention support for custom connectors."
That said, there is no suggestion that you should begin to introduce these tools without the oversight of IT. There will continue to be issues – whether infrastructure and hosting, or where additional coding or integrations may be required – that will require the support of IT professionals.
Microsoft customer, the Hampshire and Isle of Wight Fire and Rescue Service(3) has been using Power Platform to create a citizen developer community of users in the service for more than a year. As an early adopter, it has already seen huge benefits from the approach – users have created apps to help the service respond to the challenges of COVID-19 as well as traditional business processes.
Learning from the Hampshire & Isle of Wight Fire & Rescue Service experience
The IT team at Hampshire & Isle of Wight supports its citizen developer users through dedicated Microsoft Teams channels. It also runs a fortnightly Power User Support Surgery meeting on Microsoft Teams which has a drop-in clinic format. Here, citizen developers can raise questions and offer support and answers to each other.
"Being low-code and no-code, these tools have a gentler learning curve than other products and coding platforms," says David Wrigley, App Development Manager at Hampshire & Isle of Wight Fire and Rescue Service "and that democratises access to advanced technology."
Wrigley also suggests that the tools offer great potential for collaboration and improvement outside of the organisation. He states: "One of the benefits of the Microsoft Power Platform is the ability to share that code and make it available to other organisations… there's a real opportunity, as more fire services understand the value of the platform, to work collaboratively and to share knowledge and the successes."
Is citizen development right for your organisation?
If you'd like to know more about these tools, please reach out to the Grant McGregor team. We'll help you understand what capabilities you already have and help you to develop an action plan for trialling the approach within your organisation.
If you're already using these tools and would like additional support from our team, we're on hand to help.
Contact us:
Sources:
1. https://powerplatform.microsoft.com/en-us/
2. https://cloudblogs.microsoft.com/powerplatform/2021/03/02/solve-it-governance-and-admin-challenges-with-new-features-for-power-platform/
3. https://customers.microsoft.com/en-us/story/1376290207757969065-hantsfire
Just wanted to say a big thank you to Dan for his help today. Above and beyond and very patient with a beginner like me.

- Read in full
Pegasus Couriers
Daniel Floyd, Pegasus Couriers