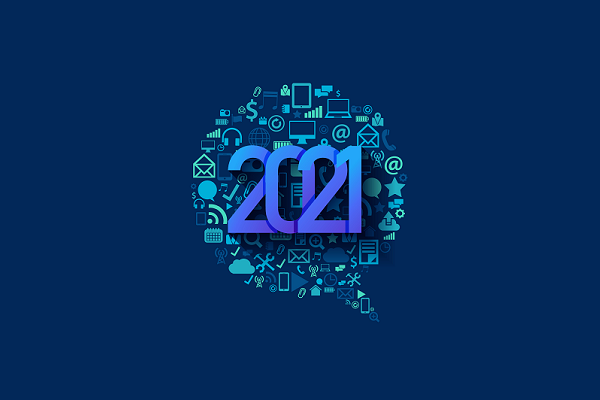 What were the tech stories that got us all talking during the last twelve months? The Grant McGregor team looks back at some of the technology tales and IT intelligence that made headlines in 2021.
#1. Poor practices put users at risk
In May, security experts(1) revealed that more than 100 million users of the Android mobile platform had compromised personal information.
Of the twenty-three apps looked at by researchers, thirteen apps were shown to have unsecured real-time databases – putting sensitive user data at risk.
The researchers highlighted that these security failures are due to developers failing to follow "best practices when configuring and integrating third party cloud services into their applications". Their findings suggest some Android developers are not adhering to basic security standards around limiting access to data – and highlight the risk that shadow IT can create for businesses.
Once again, it underlines that every organisation – whatever its size – should ensure it has an effective mobile device management solution in place.
#2. State-sponsored cyber crime
Microsoft's revelation in March 2021(2) that it had been the target of a state-sponsored cyber-attack by the Chinese hacker organisation Hafnium came as a huge shock – largely because of the scale of the attack.
More than 30,000 organisations were affected, including federal agencies in the USA. The UK's National Cyber Security Centre declared it "highly likely that Hafnium is associated with the Chinese state".
The breach was so serious(3) that the FBI took the unprecedented decision to deliberately seek out, hack into, and remove the malware from "hundreds" of servers that the agency had been unable to secure in the conventional manner.
#3. Global supply chain problems result in a chip shortage
Many organisations – and home users – were reporting issues around sourcing IT throughout 2021.
Gartner reported in May(4) that foundries were increasing wafer prices, and in turn, chip companies are increasing device prices. At the time, it predicted that chip supply will recover to normal levels by the second quarter of 2022.
However, by the end of the year, it became clear that those predictions were overly optimistic. Ars Technica(5) reported in October that the snarls in the semiconductor supply chain are weighing on economic growth, but the shortages are going to continue indefinitely.
#4. Finally – a big tech clampdown?
In April, the U.S. House of Representatives Judiciary Committee(6) formally approved a report accusing Big Tech companies of buying or crushing smaller firms. By October, it was promising another bipartisan antitrust bill.(7)
With concerns swirling about the spreading of misinformation, a lack of transparency about the funding of advertising, the interference in elections by foreign powers, tax avoidance and a lack of a fair playing field, and concerns growing about the monopoly of just a handful of companies, it seemed briefly that perhaps politicians were making a start on holding big tech to account.
In July, the UK Government(8) also leapt on the agenda, with a proposal for a new pro-competition regime for digital markets – perhaps realising that any action it takes on big tech will need to have been actioned by the US first if it is to have any chance of success.
However, we arrived at the end of 2021 with a lot of talk continuing, but very little action being taken or any material changes enacted on either side of the Atlantic.
#5. Will technology be a winner from levelling up funds?
The UK Government has announced a wide range of public funding initiatives designed to help the country emerge from the pandemic and "build back better".(9) Many of the funding announcements had a technology focus, with plans for finance to help unleash innovation including British Patient Capital, and a new £375 million Future Fund. The Chancellor also promised to support small and medium-sized enterprises through two new schemes to boost productivity: Help to Grow: Management, a new management training offer, and Help
to Grow: Digital, a new scheme to help 100,000 SMEs save time and money by adopting productivity-enhancing software.
However, it looks like much of the £4bn that has been promised through until 2024 is going to be directed to community projects in marginal constituencies, rather than on realising the much-vaunted and much-needed Net Zero and Innovation agendas.
#6. Space rich
2021 was also the year when technology-enriched billionaires fought over extra-terrestrial bragging rights. While the rest of us tried to get through the pandemic, Jeff Bezos, Sir Richard Branson and Elon Musk were all showing off their space rockets.
With a net worth of $131bn, the Amazon founder(10) told Business Insider in April that he plans to spend much of his money getting to space. "The only way that I can see to deploy this much financial resource is by converting my Amazon winnings into space travel," Bezos said.
While the billionaires look to the stars, people with their feet more firmly planted upon the earth might be able to offer a few alternative ideas for burning through the billions: mitigating global warming or paying for a global vaccination programme, for example. As The Verge(11) argued, "The US alone struggles with vast wealth inequities, poor access to healthcare and a rapidly changing climate, among other problems that, when paired with space tourism, makes the activity look insultingly selfish to many."
#7. Apple prioritises privacy
In May, Apple iOS 14.5 arrived with a much-hyped App Tracking Transparency feature that campaigners had hoped(12) would shake up Internet privacy norms for the better. However, following the launch, many users complained about a lack of "Ask to Track" prompts. At best, the prompts are only launched when a new app is installed or an app is updated.
Even so, Forbes(13) reports that "Apple has indicated that app makers who don't ask will not be given access to the IDFA. Instead of the unique IDFA code that identifies you, the app developer will receive a string of 000s."
The truth probably lies somewhere in between, but this is an important development because it shows a clear commitment by Apple to respond to user concerns about privacy. It remains yet to be seen whether this is one trend where Apple leads and others follow.
#8. Pegasus rumbles on
In December 2021, 86 organisations(14) including Access Now, Amnesty International and the Digital Rights Foundation called on the European Union to impose global sanctions on NSO Group, the Israeli company behind the Pegasus surveillance technology. Together they called for the EU to take "every action" to prohibit the sale, transfer, export and import of the spyware.
The spyware has been linked to the death of the New York Times journalist Jamal Khashoggi as well as a host of human rights abuses and even spying on US Government officials.
The continued concerns about yet another invasion of privacy as a result of technological innovation indicate that privacy is going to remain a big story through next year and well beyond.
What next?
For the Grant McGregor team's predictions about what the world of technology has in store for us in 2022, stay tuned for our blog next week.
In the meantime, you can remind yourself what our tech predictions were for 2021 here.
Or flash back to our 2020 tech predictions here.

Sources:
1. https://www.zdnet.com/article/cloud-services-used-by-android-apps-exposed-data-of-millions-of-users/
2. https://blogs.microsoft.com/on-the-issues/2021/03/02/new-nation-state-cyberattacks/
3. https://www.theguardian.com/world/2021/jul/19/what-is-the-hafnium-microsoft-hack-and-why-has-the-uk-linked-it-to-china
4. https://www.gartner.com/en/newsroom/press-releases/2021-05-12-gartner-says-global-chip-shortage-expected-to-persist-until-second-quarter-of-2022
5. https://arstechnica.com/gadgets/2021/10/no-end-in-sight-for-chip-shortage-as-supply-chain-problems-pile-up/
6. https://www.reuters.com/business/us-house-committee-approves-blueprint-big-tech-crackdown-2021-04-15/
7. https://www.reuters.com/world/us/big-tech-face-another-bipartisan-antitrust-bill-2021-10-14/
8. https://www.gov.uk/government/news/government-unveils-proposals-to-increase-competition-in-uk-digital-economy
9. https://assets.publishing.service.gov.uk/government/uploads/system/uploads/attachment_data/file/968403/PfG_Final_Web_Accessible_Version.pdf
10. https://www.cnbc.com/2018/04/30/jeff-bezos-says-this-is-how-he-plans-to-spend-the-bulk-of-his-fortune.html
11. https://www.theverge.com/2021/7/17/22573791/space-tourism-industry-bezos-branson-musk-billionaire-phase
12. https://www.theverge.com/2021/4/27/22405474/apple-app-tracking-transparency-ios-14-5-privacy-update-facebook-data
13. https://www.forbes.com/sites/kateoflahertyuk/2021/05/01/ios-145-the-surprising-problem-with-apples-big-privacy-update/?sh=22c73ae27549
14. https://www.theguardian.com/law/2021/dec/03/rights-groups-urge-eu-to-ban-nso-over-clients-use-of-pegasus-spyware
Just wanted to say a big thank you to Dan for his help today. Above and beyond and very patient with a beginner like me.

- Read in full
Pegasus Couriers
Daniel Floyd, Pegasus Couriers