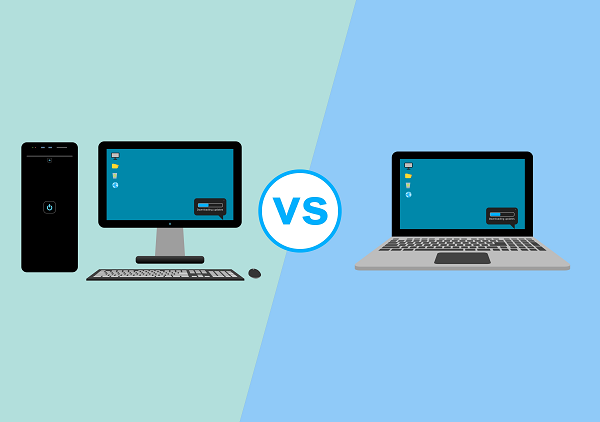 With the focus firmly on flexibility, digitalisation and mobile working, it would be logical to think that the days of the desktop PC are numbered. However, purchasing trends over the last year suggest otherwise…
Industry analysts have been predicting the demise of the desktop PC for more than a decade, but has the shift to mobile working through the pandemic been the final nail in the coffin for the desktop computer?
It would be logical to think that the trends towards flexibility, digitalisation and mobile working – all of which have been fast-tracked through the pandemic and the necessary work-from-home arrangements – are bad signs for desktop PC vendors. To a large extent it's true.
However, sales of desktops have remained strong over this period.
So what's going on?
Overall PC sales are remarkably strong
The Financial Times(1) reported in January 2021 that the industry recorded its best growth figures in a decade. Worldwide PC shipments grew to 275m units in 2020 – showing a 4.8 per cent growth rate; the highest since 2010.
The FT predicted that "there may be more to come as manufacturers position their products for pandemic living in 2021". Sales so far support this prediction – even though the market has faced disrupted supply chains and component shortages because of the pandemic.
Based on sales so far this year, market intelligence firm IDC(2) has predicted that shipments of traditional PCs will reach almost 96 million units in 2021 in the EMEA region – a 13.2% increase compared to the previous year.
A changing pattern of demand
Continuing strong sales from March 2020 is easily explained by the change in working practices forced on us through the pandemic lockdowns. Many businesses moved quickly to provide their staff with laptop devices so that they could continue to work from home.
Now that we are returning to the office, both staff and businesses are seeking to integrate some work from home into their day-to-day arrangements. This means demand for devices that can support flexible working arrangements continues to be strong as we transition to another new normal.
Businesses want lightweight, mobile form factors
According to IDC, notebooks and detachable tablets have broadened their presence in the market.
It says, "the emphasis on productivity, flexibility, and ease of use is now greater than ever before. Shipments for detachable tablets grew 33.6% during the quarter as both Microsoft and Apple helped push the form factor with their respective products. Additionally, backlogs for PCs led some consumers to purchase these detachable tablets in place of notebooks. Traditional PCs (inclusive of desktops, notebooks, and workstations) grew by 25.7% year-over-year, with notebooks driving this market with a 44.1% year-over-year growth."
Who is buying desktop PCs?
So if business and education are prioritising mobile and lightweight form factors, how has the desktop PC market remained so steady?
Some analysts suggest that the shortage of components has affected the availability of laptops from some vendors, leading to buyers to choose desktop PCs as the next-best option.
However, there are some business users who don't have the option to use laptops or mobile devices. Power users who need to tackle heavyweight computing tasks – architects and engineers using BIM and CAD software, video editors, graphic designers, programmers, etc – continue to need desktop PCs. The kinds of graphics cards, power-hungry components and cooling systems required to complete these tasks simply wouldn't fit into a portable form factor.
However, such users account for a relatively small number of business users – whether in the office or in education.
Home users are boosting desktop demand
In fact, it is home users who have played a significant part in driving growth in the PC market.
With many people on furlough and all of us unable to socialise as we would normally, home entertainment providers have boomed. Streaming giant Netflix(3), for example, added approx. 2 million subscribers in the UK during 2020 – taking its British customer base to an estimated 13 million people. And the UK video games market(4) generated a record £7 billion last year.
With less money being spent on clothes, out-of-the-home entertainment and eating out, consumers could invest in bigger purchases, including powerful gaming PCs. While business and education purchasers were turning to lightweight and mobile form factors, consumers were splashing out on high-performance home PCs.
In the consumer market this year, IDC reports(5) an increased year-on-year growth of 14.7% in desktops, while notebooks saw a softer increase of 4.9%.
The forward picture
IDC expects the consumer market to remain strong for the desktop PC in the short term. It predicts, "With upcoming game releases in the second half of 2021 expected to increase graphical requirements, more gamers will be looking to refresh their PCs to game at the highest level. Therefore, acceleration of new and returning gamers is expected to continue in 2021… In addition to the pandemic, the growth in gaming demand can also be attributed to streaming and esports, both of which are becoming increasingly popular."
However, IDC also warns that "with component supply and logistics problems continuing, gaming PC production will be impacted too".
Nevertheless, moving forwards, IDC has predicted that in Western Europe the consumer market will see its sixth consecutive quarter of double-digit growth, with PC sales up 10.3% compared to the same time last year.
So, no: the desktop PC isn't dead – but they are moving away from the office and into the home. As a result, you will probably be seeing fewer of them in your office from now on.
Next steps?
Read up on how to secure your PCs, laptops and other devices on your network.
If you are making the switch to supporting more mobile forms of working, find out about mobile device management.
Plus, we ask: should your organisation standardise on Microsoft Surface devices?
Get in touch!
Our team are always ready to answer any questions you might have.
Whether you want to know about investing in new mobile devices, how to get the best deals on upgrading your office hardware or are seeking advice on how to secure the devices across your IT estate – including when working from home – our team is on hand to help.
Reach out now:
Sources:
1. https://www.ft.com/content/b6868b26-9b11-4032-bb36-616419be7ae8
2. https://www.zdnet.com/article/pc-sales-are-at-a-record-high-but-what-we-are-buying-is-changing/
3. https://www.theguardian.com/media/2021/oct/15/netflix-paid-just-4m-in-uk-corporation-tax-on-115bn-from-british-subscribers
4. https://www.gamesindustry.biz/articles/2021-03-19-pandemic-drives-uk-games-market-to-record-7bn-year
5. https://www.idc.com/getdoc.jsp?containerId=prEUR148227121
Just wanted to say a big thank you to Dan for his help today. Above and beyond and very patient with a beginner like me.

- Read in full
Pegasus Couriers
Daniel Floyd, Pegasus Couriers