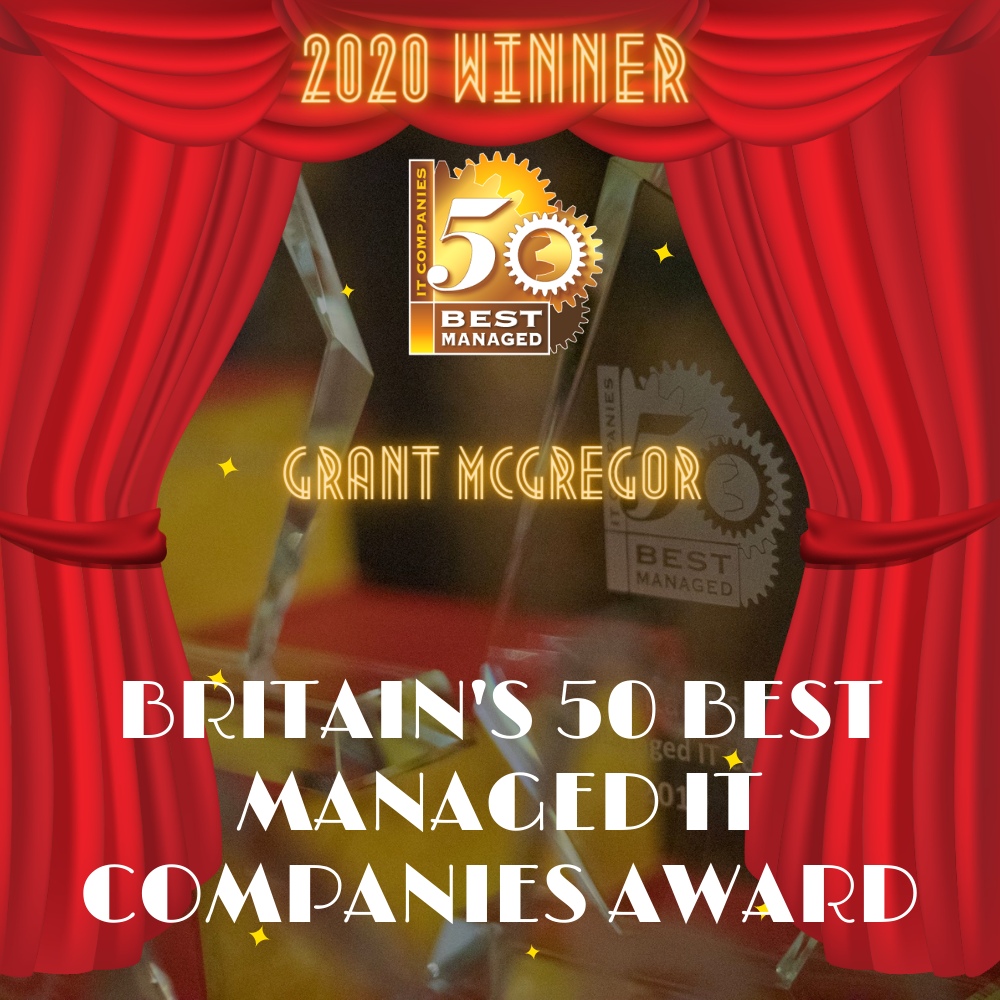 Not only that - we're the only Scottish MSP to be placed on the awards list.

It's been quite a year.
High hopes in the New Year, slowly grew unusually darker and darker as we headed from Winter into Spring.

So many of us have had to adapt to completely different lifestyles, new ways of looking after our families and loved ones and conducting our daily business from rapidly adapted "home offices".

As an IT Partner, we've been at the heart of the workplace transformations that have happened across many industries. We've enabled our clients to keep on operating in the decentralised, new (even if, temporary) reality.

This has certainly been challenging work but ultimately rewarding. Seeing, and being part of, the agility of British business to react and adapt, at pace.

With this in mind, it is our absolute pleasure to be able to announce that we have been awarded a place as one of the 50 Best IT Support Companies in the UK (and the only Scottish MSP placed).

This award, coming hot on the heels of our MSP501 Award, shows that we have the quality, practice and processes to compete at the highest levels found in the UK marketplace.

While the MSP501 listing focussed on our business model, our performance as a business and our operational maturity, this award goes to demonstrate that our business has the "systems" and quality of best practice to support our customers. This is even more impressive given the Covid backdrop, where every business has been under increasing pressure, significant amounts of which have fallen on the shoulders of IT support partners, like us.

To win this award this year is all the more humbling. We're so, so proud of our team - who have dug deep and delivered, day after day.

Jon Towers, Co-founder and Director at Grant McGregor said at this year's virtual awards ceremony, when accepting this accolade, "This year has been the year that our people-focussed philosophy has been thrown into sharp relief. At the centre of everything we do, and have done for many years, are the human beings in our business and in our customers' businesses.

"By making sure our people are well-supported, well-trained, and genuinely-cared for, we best ensure that they are in the right place to look after our customers' people. It's easy to think of an IT company being all about machines and software.

"We've never seen it like that. They are just the tools that help people do their work. It's the people that need to be supported, their needs met, and their goals focussed upon. Only then can we help them to realise the true potential of their technology investments.

"In accepting this award, we are so grateful to our team for living this philosophy every day and proving our vision right."

Together with the MSP501 award, this listing on the 50 Best IT Support Companies in the UK, demonstrates that, not only do we have a well-managed and sustainable business model but also that we are looking after our customers using best practices and to the highest standards in the UK marketplace.
Want to upgrade to a world-class IT Partner that doesn't cost the earth?
Discover what makes us stand out from the crowd and why that can truly help you to achieve your business and personal goals.

Get in touch today to find out how surprisingly affordable it can be...
Just wanted to say a big thank you to Dan for his help today. Above and beyond and very patient with a beginner like me.

- Read in full
Pegasus Couriers
Daniel Floyd, Pegasus Couriers