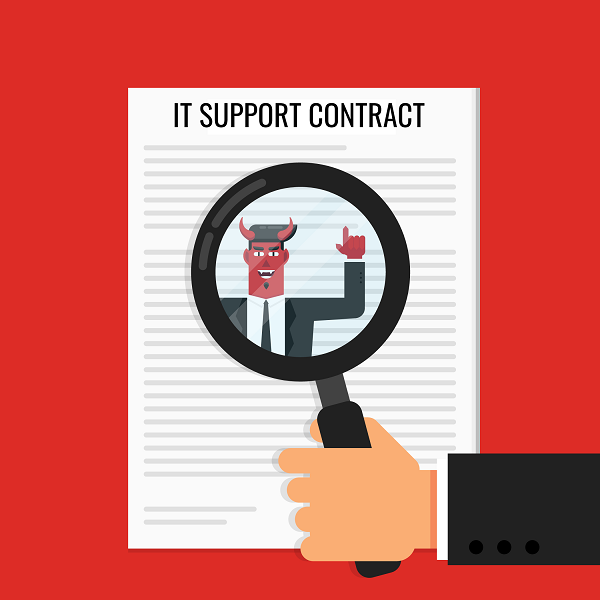 The maxim "better the devil you know" has a sidekick: "if it ain't broke, don't fix it". In today's world of fast-paced change, increasingly competitive markets and evolving security threats, both phrases are outliving their usefulness.
We've spoken at length in the past why "if it isn't broken, don't fix it" no longer holds value: updates and upgrades play a vital role in keeping your business and its systems and data secure.
But we think that the associated notion of "better the devil you know" is also well overdue for retirement. We know IT support is a competitive business; according to Markets and Markets the sector will grow at 12.5% this year. So why settle for anything less than excellent?
Why don't organisations switch when they are unhappy?
As IT support partners, we speak to many businesses who want to understand how we can deliver a better and more secure level of IT support than their current supplier.
Unfortunately, many of them have left it rather late to find out. Despite serious misgivings about the quality of support they were receiving, or the breadth of services they could access, they continued with "the devil they knew".
The danger with putting up with poor communication, or a slow response to issues, bad (if any) advice or any of the other myriad of reasons an IT support partner can fall below desired service levels, is that it may leave you exposed to performance or security risks.
In an ideal world, you don't want to wait for a security incident or an equipment fail to occur before you decide to switch, because you're then making a sourcing decision under extreme time pressure. Yet many businesses do wait until an incident happens before they seek help.
Why? Well, there are many reasons for this. The two key misgivings we encounter most often are:
a) a lack of confidence about how they will know the next MSP will be any better, and
b) the perceived time and effort a switch would involve.
Let's take a look at each of these concerns in turn.
How will I know the next MSP will be any better?
As business managers, we understand that there is a risk in any purchase decision. Every day, we reduce these risks through careful preparation and planning. Choosing an IT support partner should be no different.
It's quite common for businesses to simply outgrow a provider. Perhaps you started out by partnering with a small, local provider because you felt they could give you the attention you need or were offering a low price.
Now, however, your existing MSP has failed to keep up with the needs of your growing business or, perhaps, failed to keep their skills up to date. Either way, the service deteriorates and you find yourself paying the same for less each month.
If this sounds like your situation, consider the current service you receive against the brief you created when you went out to market last time. Also compare it to what you were promised by your current provider at the time of agreeing to work with them.
Where is your existing supplier falling short? How could you have addressed these needs when you went out to market last time? Was there a lack of clarity in the brief? Have new needs emerged that were not foreseen? Did the supplier misrepresent their ability to meet the brief?
If you do find gaps, you need to update your brief accordingly, and go back out to market. The gap analysis you've conducted should give you the confidence and information you need to make a good decision that reflects the current needs of your business.
How will I manage the time and effort that switching my MSP would involve?
Change is always scary, whatever the change.
But there is really no need to be concerned about the time and effort involved in switching your IT Support because a good provider will do the work for you during their onboarding process.
And you've already done the hard part; you've identified the gaps in your current provision and set out new targets and desired service levels. Now you simply need to find potential partners who could work with you and talk to them about how they would meet your requirements and manage the transition.
Your new MSP will likely wish to begin by conducting a full IT audit and then will develop a plan with you. Their expertise should ensure a seamless transition.
If you'd like some help with a few things to consider when considering changing your IT support partner, you can get a free copy of our 6 Secrets guide here….
whale_monorail/Shutterstock.com
Just wanted to say a big thank you to Dan for his help today. Above and beyond and very patient with a beginner like me.

- Read in full
Pegasus Couriers
Daniel Floyd, Pegasus Couriers