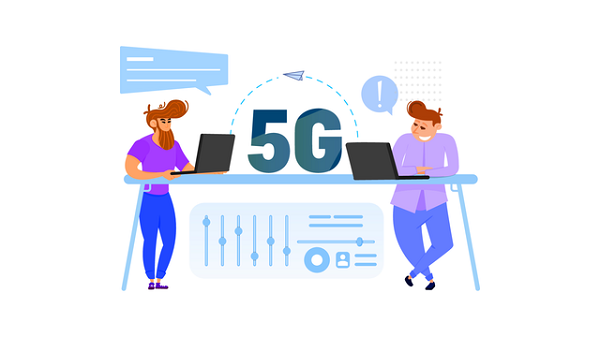 5G seems to attract a lot of hype… but what is the truth? What are the real risks and benefits? And where are the opportunities for your organisation? We talk you through what your organisation needs to know about 5G.
Leading-edge technologies are often accompanied by wild claims.
Communities around the world have long feared that cameras would capture human souls(1). And in the early days of rail travel, people worried that achieving speeds of more than 50mph would cause women's uteruses to fly out of their bodies(2).
Yet even against those preposterous ideas, fifth-generation wireless mobile networks (5G) seem to have attracted more wild claims than most.
5G conspiracies
From a consumer point of view, there is significant concern about the health effects of 5G(3), with wild conspiracy theories abounding online. As a result, 43% of UK consumers are unsure whether 5G poses a health risk, according to Deloitte(4). The propagation of such fears has led to reports of people verbally abusing telecoms engineers and still others setting fire to mobile phone masts.
Meanwhile, governments around the world have been equivocating over infrastructure developments and technology rollouts as they weigh up the risk associated with allowing Huawei technologies(5) to be deployed in critical national infrastructure.
On the other side of the scale, industry consultants position 5G as one of the most significant market opportunities in coming years.
A recent Market Research Future (MRFR) report(6), published in February 2021, predicted the global 5G technology market size would exceed a valuation of USD 700 billion by 2025, at a CAGR of more than 70 percent. The press abounds with announcements of the major cloud providers rushing to partner with national and regional carrier service providers.
What are the real opportunities of 5G?
While all these wild predictions and conspiracies about 5G rage around the Internet, businesses – and, especially, small and mid-size businesses – have been left on the sidelines, wondering what all the fuss is about and where the real opportunities of 5G lie.
The UK Government(7) seems just as confused. In January this year, it announced a £28 million fund to explore new uses of 5G that might improve people's lives. Projects that have secured funding to date include using 5G to enable multi-angle replays on visitor smartphones during sporting events at London's O2 arena and a new augmented reality app staring Sir David Attenborough. Here in Scotland, the technology will be deployed on BAM Nuttall construction sites in Kilsyth, Glasgow and Shetland to test the efficacy and usefulness of 5G connected drones, sensors and cameras.
At this stage, it all seems very experimental and far off. However, organisations which act now to identify and prepare for the opportunities of 5G stand to gain significant competitive advantage.
Understanding the promise of 5G
What makes 5G exciting is the fact that, for the first time, mobile networks can be a true replacement for wired networks. This makes connecting rural or other previously unreachable locations suddenly realistic.
Instead of laying fibre-optic cable for fast Internet connectivity, users can rely on their 5G mobile network for reliable, high-bandwidth connectivity. Offices could open in previously unthinkable locations, real-time data could be collected from remote sites with ease, and working from mobile locations – planes, trains and automobiles – is suddenly a realistic prospect.
The speed of 5G is up to 100 times faster than 4G. You could download a feature film in seconds. High-bandwidth activity, such as high-quality video conferencing, augmented reality (AR) and virtual reality (VR), can be served up on mobile devices with low latency and highly responsive performance.
This is where the vision piece comes in. In what ways are such services likely to enhance your products and services for your customers and staff and supply chain partners or other stakeholders?
If you can see clear advantages for your business, it could well be time to start preparing for 5G.
The other key advantage of 5G is the ability to connect many more devices at once. Analysts think this capability will usher in a boom in smart sensors and connected devices. The data from these devices can be shared in real time, creating new opportunities for better data analytics, artificial intelligence (AI) and machine learning (ML) solutions.
What opportunities might that unlock for your organisation?
Where are the 5G opportunities for your business?
Tell us how you see yourself unleashing the potential of this technology by leaving a comment on our LinkedIn feed.
Sources:
1. http://blogs.reuters.com/photographers-blog/2011/05/12/capturing-souls/
2. https://www.mentalfloss.com/article/67806/early-trains-were-thought-make-womens-uteruses-fly-out
3. https://www2.deloitte.com/uk/en/insights/industry/technology/technology-media-and-telecom-predictions/2021/5g-radiation-dangers-health-concerns.html
4. https://www2.deloitte.com/uk/en/pages/press-releases/articles/missed-connection-forty-three-percent-of-uk-consumers-unsure-whether-or-not-5G-technology-poses-a-health-risk.html
5. https://www.theguardian.com/technology/2020/jul/13/what-is-huawei-and-why-role-in-uk-5g-so-controversial
6. https://www.globenewswire.com/news-release/2021/02/08/2171123/0/en/5G-Technology-Market-to-Surpass-USD-700-Billion-by-2025-Growing-With-70-83-CAGR-North-America-to-Dominate-the-Global-5G-Market-With-CAGR-of-71.html
7. https://www.gov.uk/government/news/28-million-to-trial-innovative-new-uses-of-5g-to-improve-peoples-lives
Just wanted to say a big thank you to Dan for his help today. Above and beyond and very patient with a beginner like me.

- Read in full
Pegasus Couriers
Daniel Floyd, Pegasus Couriers