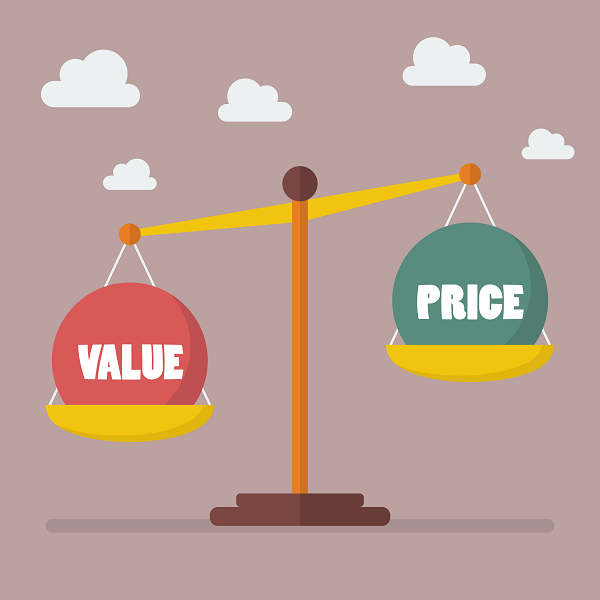 Grant McGregor's guide "The Six Little-Known Secrets" of IT support highlights a few key factors you need to consider in order to get the very best from your IT company. In this blog, we take a look at secret #3: beware of choosing an IT support provider on the basis of price alone!
Price is, of course, a vital consideration when choosing any business service – but secret #3 warns IT buyers of the dangers of selecting an IT supplier on price alone.
To help you understand whether a quote really represents value for money, we list six additional questions to ask alongside any questions about pricing.
#1. Comparing like for like
One key problem with making decisions based on price is the difficulty of making sure you are comparing like for like.
What one organisation describes as an "essential IT service" might not be the same for another. And, consequently, IT providers will differ in their service descriptions too.
It can often require quite a lot of work to ensure that one IT provider's monthly service fee is really commensurable to another IT company's monthly service fee.
Instead, ask any potential suppliers to provide a quote based on your own stated SLAs.
If you go into discussions with a clear idea of your own service level requirements across each IT service, this can help a lot – it will be far easier to compare prices per service if your IT suppliers are putting a price on your stated service objectives, rather than giving a price for some arbitrary level of service.
#2. Paying peanuts…
We've all heard the old adage that you get what you pay for. Comparing hourly rates is, obviously, critical, especially if you are likely to require a lot of additional hours of support services above the basic package.
However, in doing so, it's vital to understand what level of expertise and experience you can expect for each hourly rate.
Be sure to ask: Is there a scale based on experience or skillset? Or one fee for all? How can you be sure that support staff responding to your calls will have the requisite expertise?
There's no point making a saving of a few pounds per hour on an hourly rate, if the person you're paying for is going to take twice as long to identify the cause of or fix a problem.
Ask: What guarantees does the company provide in terms of calibre of its support staff?
And: Don't be afraid to also ask to see evidence of accreditations, certifications and awards.
#3. Beware hidden costs
Always ask: What isn't included?
#4. The depth of support
How many people are actually on hand to assist with your IT support calls?
Even if an IT company has a large team, you might not be guaranteed the level of support you want if there are lots of other customers all vying for that team's attention. A high-volume, low-care operation might cost less, but at what price?
Similarly, a small team might not have the depth of personnel to really deliver the service levels you need, especially out of hours or at weekends. It's a good feeling to know that your supplier wants your business, but if you need support beyond 9-5, then it's no good paying for support that doesn't offer this.
Instead, ask: What is the ratio of client per support staff – are you going to get the personal attention you need?
Also: ask to speak with or see references from existing customers so you know whether the company is capable of delivering the degree of support you want.
#5. What are the costs of things going wrong?
What would be the cost to your business if your IT systems went down for an hour? Or a day?
What would be the likely cost if you suffered a data breach?
How could your IT supplier protect you from these risks and potential costs? How proactive an approach would they take to your systems, security, processes and people?
IT shouldn't be a wholly reactive service.
Ask for an explanation of the approach any potential supplier of IT support services would take when on-boarding your organisation. Be wary if there are no proactive activities within that on-boarding process.
You don't have to fix everything upfront, but you do need to have a plan in place for identifying issues and addressing them as soon as your budget will allow.
#6. Low price isn't the same as value for money
As we've already discussed, there are many areas in which an IT support service partner might try to drive down costs in order to offer its clients a more competitive rate.
Here at Grant McGregor, we don't believe in cutting on costs on our personnel, on their training, on the depth of service or quality of service we provide and we pride ourselves on the proactive approach we take with our clients to ensure they manage risk, maximise return on investment and achieve the best value from their IT systems and investments.
We always aim to be competitive but never at the expense of leaving our clients vulnerable or in need of better service.
We recommend asking potential suppliers about their values and ways of working and how they measure success. If success is measured just in financial terms then, for us, that's another warning sign.

If you'd like to discover the other five secrets that our team has identified as being essential to getting the most out of your IT provider, download the full guide below:
For more information, or to discuss the any the issues raised in this post, please contact our team on 0808 164 4142.
Just wanted to say a big thank you to Dan for his help today. Above and beyond and very patient with a beginner like me.

- Read in full
Pegasus Couriers
Daniel Floyd, Pegasus Couriers