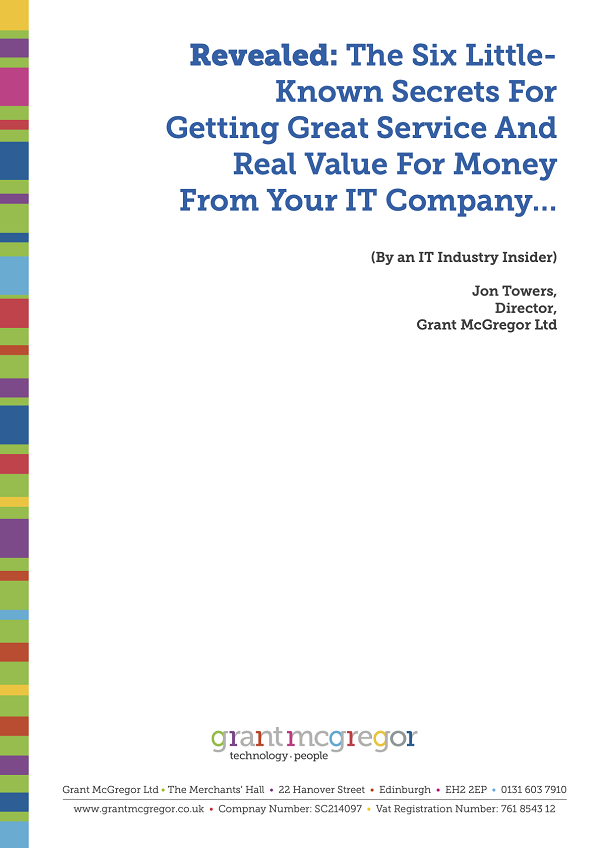 Grant McGregor's guide "The Six Little-Known Secrets" of IT support highlights a few key factors you need to consider in order to get the very best from your IT company. In this blog, we take a look at secret #2: never assume that all IT providers are the same and that technical prowess and "computer geeks" are all you need.
Technical skills are, of course, essential in an IT outsource partner. However, you'll find that there are other qualities that are equally important when it comes to dealing with your IT company on a daily basis.
1. Is your prospective IT provider financially stable and secure?
In today's Internet age, any company can appear to be larger or more professional than they are in reality. So how can you be certain that a potential IT supplier is who they say they are?
We always recommend that you visit their offices to see the scope and professionalism of their operation for yourself. But there are other checks you can do too.
Checking on companies house, and asking them to share their accounts with you, will give you the peace of mind that your supplier isn't going to disappear overnight or fold at a critical moment for your business.
2. Communication is at least as important as computer geekery
A good IT provider won't feel the need to flaunt their expertise with jargon-laden explanations of systems and support issues.
The ability to clearly and concisely explain highly technical issues to non-technical people is a highly underrated ability in too many support companies – but not Grant McGregor.
We understand the frustrations that jargon creates.
Our team always works hard to make sure our advice and support is easily understood – so we save everyone time and money and give you the information you need to make strategic IT decisions.
3. Does your prospective IT provider have the right systems and processes in place?
Good communication is important, but it isn't enough.
You need the automation, processes and procedures in place to ensure communication is timely, responsive and rapid.
Your IT provider should be happy to walk you through the process of what happens when a support request comes in. Ask to see the monitoring systems and, if possible, talk to people in the team (not just a salesperson!).
Any prospective support company should also be able to share their average response times. Ask to see the percentage performance against SLAs as well as the basic figures.
If the company can't or won't share this data with you, that should ring alarm bells. Are they failing to live up to their promises? Or, worse, are they failing to monitor performance at all?
4. Security is a key competence
Great IT support is no longer a matter of just fixing things when they go wrong.
A proactive approach is necessary, especially when it comes to cyber security. You need to reassure yourself that any IT support company has the necessary competence when it comes to protecting your business and your IT assets. Surprisingly, the industry is currently unregulated so what qualifications does a prospective provider have? Asking you to complete the government's cyber security essentials programme is a good indicator of any company's commitment to cyber security – and make sure the provider has it, too!
Prevention is much better than the cure on this. Make sure your IT provider has a commitment to being proactive on cyber security – and also takes a proactive approach to future planning – to ensure that your business can thrive over the long term.
5. Ask to visit their offices
It is vital that you are comfortable with your IT support consultants because they are likely to spend a significant amount of time with you and your employees. The decisions you make in partnership with them can decisively affect the success of your business.
Meet them in their offices to see exactly how they operate before you commit to any sort of contract with them.
If you'd like to discover the other five secrets that our team has identified as being essential to getting the most out of your IT provider then download the full guide.
For more information, or to discuss the any the issues raised in this post, please contact our team on 0808 164 4142.
Just wanted to say a big thank you to Dan for his help today. Above and beyond and very patient with a beginner like me.

- Read in full
Pegasus Couriers
Daniel Floyd, Pegasus Couriers