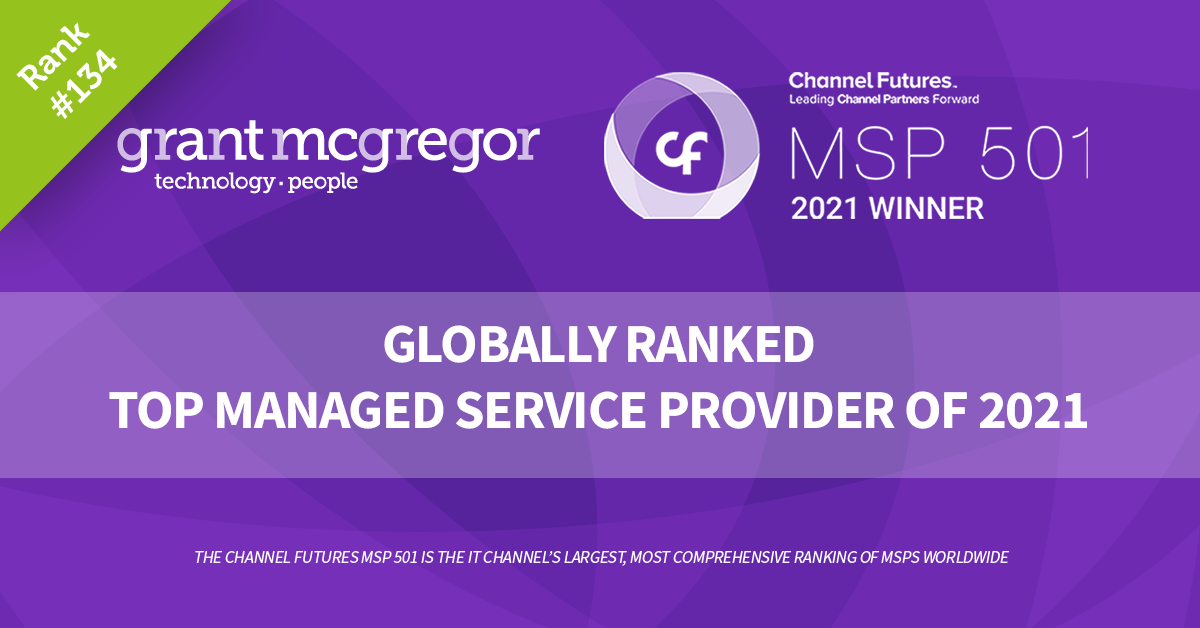 Coming in at number 134 worldwide, 9 in the UK and 1st in Scotland – Grant McGregor once again makes it on to the prestigious MSP501 list.
As a rule, we try not to talk about ourselves very much – preferring to talk about your problems and the solutions to them.
But in what's becoming an annual break from the norm we'd like to briefly shine a spotlight on our own achievement – proudly announcing that Grant McGregor has once again won a position as one of world's premier managed service providers.
The recently announced 2021 Channel Futures MSP501 lists the top 501 managed service providers from around the globe. With more entries than ever, and during a pandemic we're proud to announce that, not only did we make the cut once again this year, but have, in fact, climbed the rankings.
Placed at #134, we have moved up a further 33 places from last year's rank of 167. Within the UK that places us at number 9 (4 better than last year) and again we rank as number 1 in Scotland.
Jon Towers, Director and Co-Founder commented on the win. "I want to thank everyone at Grant McGregor who have really dug deep in the last 12 months to deliver a world-class service every day – no matter the change and upheaval caused by a pandemic. Each year we win this award I am humbled more, not less. For our family to be recognised amongst the best of the best makes me so, so proud of each one of them – individually and as a team."
"I'm speechless once again, to not only feature on the MSP501 but to have scaled the ranks once again." David Lawrence, Co-Founder and Director said "To place in the top 10 in the UK is an astounding achievement for our team. Knowing the quality of some of our peers first hand, I am proud to lead a world class MSP."
Managed services providers that qualify for the list must pass a rigorous review conducted by the research team and editors of Channel Futures that rank applicants using a unique methodology that weighs financial performance according to long-term health and viability, commitment to recurring revenue and operational efficiency.
Since its inception, the MSP 501 has evolved from a competitive ranking into a vibrant group of innovators focused on high levels of customer satisfaction at small, medium, and large organizations in public and private sectors. Today, many of their services and technology offerings focus on growing customer needs in the areas of cloud, security, collaboration, and support of hybrid work forces.
"The 2021 Channel Futures MSP 501 winners are the highest-performing and most innovative IT providers in the industry today. They stand head and shoulders above the competition," said Robert DeMarzo, vice president of content for the Channel Futures and Channel Partners Conference & Expo division of Informa Tech Channels. "Coordinated by Channel Futures MSP 501 editor Allison Francis, this year's list was clearly one of the best ever on record."
"Vendors that are aligned with the Channel Futures MSP 501 are driving a new wave of innovation in the industry. Through their partnerships they are demonstrating a commitment to moving the MSP and entire channel forward," said Kelly Danziger, general manager of Informa Tech Channels. "We extend our heartfelt congratulations to the 2021 winners and gratitude to the thousands of MSPs that have contributed to the continuing growth and success of the managed services sector."
Is your MSP not ranked on the list? Find out the Grant McGregor difference by arranging a quick, no-nonsense chat with one of our team.
Just wanted to say a big thank you to Dan for his help today. Above and beyond and very patient with a beginner like me.

- Read in full
Pegasus Couriers
Daniel Floyd, Pegasus Couriers