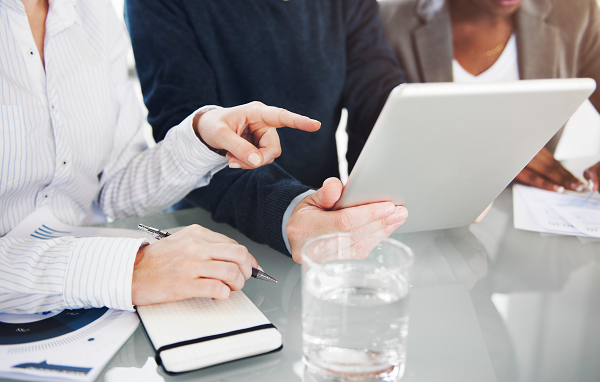 Developing an IT strategy can be a daunting task to start, especially if you've not done it before. Our new guide helps to demystify the process and offers a five-step approach to help you to get it done.
The problem many organisations have when it comes to creating and writing an IT strategy is they simply don't know what is missing from their current set-up and what to consider.
While you might have an idea that your IT is holding your organisation back, or perhaps you know your staff have developed work-arounds to do the things they need, it isn't always easy to work out a solution to these problems.
Taking a systematic approach to IT strategy development can help.
When IT is working at its best, it runs flawlessly – largely unnoticed on a daily basis. This is what we're aiming for when we develop an IT strategy for our clients – and this is what our new five-step IT Strategy Guide helps you to achieve.
Step One: Where Are We Now?
As with all planning, you need to understand where you are now before you can plot a path to where you want to be. Auditing systems, components process and incorporating user feedback is an essential first-step to any strategy development.
Step Two: Establish the Benchmark
Following your audit, you can begin to formalise the instructions and plans for use, updates, and upgrades. This safeguards you from the loss of "knowledge capital" when people leave as well as ensuring everyone has access to clear instructions about the best way of doing things.
Step Three: Critical Vulnerabilities and Points of Failure
Your IT strategy is only as strong as its weakest link. Following your audit, you now know where these weak links or key risks are – and can now work to either transform them or mitigate their impact. Set out the actions in your strategy to ensure these gaps get and remain tightly closed.
We highly rate the Cyber Essentials scheme which can help to drive the best security practice aspects of IT strategy for small and medium-sized businesses and organisations.
Step Four: Adapting to a Mobile Workforce
Our increasing reliance on mobile devices adds a further layer of complexity onto developing IT strategy. Your strategy must reflect these changing trends as much as it reflects your organisational strategy and ambitions. Enabling your workforce while maintaining high security standards is a difficult balance to strike, so will require some careful planning.
Step Five: the Lifecycle of IT Assets
Your asset log is a vital part of your IT strategy and it will require ongoing work to keep it up to date. It must include physical inventory and software licensing. We also recommend you add staff and training to this list – as those are also vital elements that requires regular updating too. Knowledge is, after all, one of the most important assets you have.
Our new five-step free guide explains each of these steps in greater detail, with explanations and insights to help you complete each step effectively. You can download it without obligation here.
Or, for more personalised help and advice, reach out to our consultancy team on 0808 164 4142.
Photo by rawpixel on Unsplash
Just wanted to say a big thank you to Dan for his help today. Above and beyond and very patient with a beginner like me.

- Read in full
Pegasus Couriers
Daniel Floyd, Pegasus Couriers