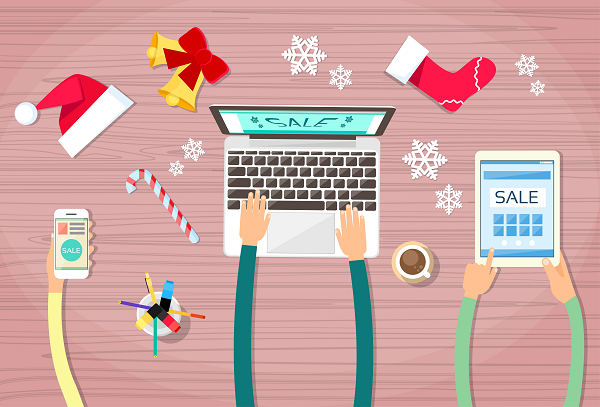 More people are opting to do their Christmas shopping online or are tempted by the post-Christmas / Boxing Day sales, and although it is quick, easy and convenient, it is important that you are aware of fraudsters looking to take advantage of online shoppers by creating fake websites and selling counterfeit goods. The best way to avoid getting caught out is to be a savvy internet user! Here we have provided a guide on how to stay safe online over the festive period.
Check your anti-virus software is up-to-date
Before shopping online, make sure your anti-virus software is up-to-date. It's important to carry out updates and patches as this will help to keep your computer secure. If you are using the internet on your smartphone and digital tablet, you should make sure they are protected with appropriate anti-virus applications too.
Stick to shopping with reputable retailers
If you are worried about the risks of fraudulent websites, it is best to do your shopping on ecommerce websites you have used before and are familiar with. However, it is important to remember that even the most reputable websites can be compromised, so if you are asked to download a file or plugin, click off the website as it may be harmful to your PC.
Only use secure payment pages
When you are purchasing Christmas gifts or other items online, it is important to make sure that you enter your card details on a secure payment page. To signify this, a small padlock symbol should appear in the address bar and it be prefixed with https://. Never send a payment directly to a seller's bank or PayPal account as you risk them taking your money without providing the goods!
If a deal seems too good to be true, it probably is
At this time of year there are plenty of scams floating about, so keep your eyes open and be on the look out! If you receive an offer or spot a deal on a website, email or social media platform that appears too good to be true, it probably is a scam, so do not enter your details or attempt to purchase it. You need to be particularly careful on auction websites where scammers may list counterfeit goods. For example, if you are looking to buy a Chanel handbag and the price seems super cheap, it's probably a fake!
Watch out for email scams
Be very wary of any suspicious emails you receive over the festive period. Cyber criminals will often pose as ecommerce stores and banks, asking you to login to confirm delivery or check activity on your account, only to steal your information. Their email address will usually be a big give away as it's unlikely to be related to the company they are claiming to be. If they have failed to address you by your name, you should also be suspicious of their intentions. If in any doubt, delete the email. Don't click on the links or download the attachments!
You also need to be particularly careful of opening e-cards. Scammers have used the growing trend of Christmas card emails as a way to target vulnerable users. If you do not know the sender or it has not been addressed to your name, do not open the link or attachment, as it is quite likely to be a virus or other form of malware.
Only donate to charities on their official websites
We are all for donating to charities but it is important to make sure that your money is going to them and not a fraudster! To ensure you are donating to a registered charity and not a scammer, make sure you use their official website. Registered charities will always provide you with ways you can contact them. As well as other ways to donate.
Keep an eye on your bank statements
You should regularly check your bank statements for irregularities even more so at this time of year when you are likely to make a lot more online purchases. If you spot something isn't right, like a transaction you didn't make, contact your bank immediately. You should also make sure that they have the right contact details for you, so they can send you an alert if they notice something odd about your account.
Check you are using a secure Wi-Fi connection
Although it's great that you can make use of free Wi-Fi in cafes, restaurants and other places, it is important to make sure that the connection is secure before using it to shop online. It's easy to spoof or mimic a WiFi connection so, if in doubt, don't connect to it. If the connection is not secure, you run the risk of having your card details or login information stolen as it passes through the unsecure Wi-Fi link.
Always log out of your account
Once you have finished using a website or online banking app, always make sure you log out. Closing the window won't always log you out of your account and this may mean that someone else is able to access it, especially if you are using a public computer. Before you login, use 2 Factor Authentication (2FA) wherever possible.
Safeguard your children's mobile devices
If you are buying your children a smartphone or tablet for Christmas, make sure that you install parental control software on the devices before wrapping them up. This software will allow you to control what websites they can access and set up a pin for downloads, so they can't buy any apps or use 'in-App purchases' without getting your permission first.
Conclusion
So be careful online this festive season, take these sensible precautions and avoid anything that looks suspicious or 'too good to be true'.
Moreover, we wish you all a very Merry Christmas and we hope that Santa brings you lots of presents...safely!
Here's to a happy, healthy and prosperous 2020 when it comes!
Just wanted to say a big thank you to Dan for his help today. Above and beyond and very patient with a beginner like me.

- Read in full
Pegasus Couriers
Daniel Floyd, Pegasus Couriers