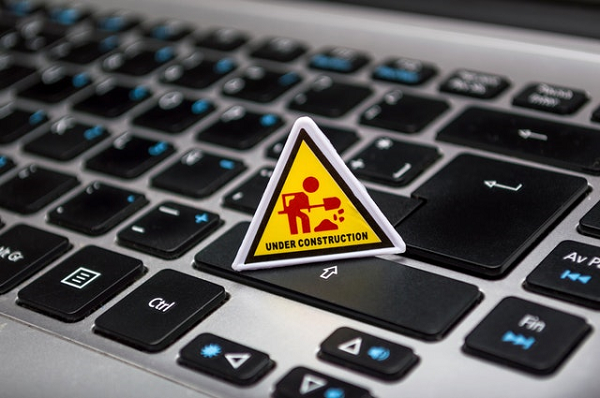 When you're starting out, smart tech purchases can often end up at the bottom of your list of priorities. But depending on how much you care about office atheistic, you can either end up overspending on beautiful technology, or buying the most cost-effective computers which your business will have to upgrade or replace later.
Recognising the IT lifecycle is an important part of a solid technology strategy, so whether your budget dictates you be flash or thrifty, here's 5 ways how to know when outdated tech is holding you back.
1. Your bandwidth is feeling the burn
When starting out, most businesses will choose their equipment based on cost. But as your business scales and technology needs evolve, using more cloud-based office collaboration solutions can put strain on your network infrastructure.
Good bandwidth is fast becoming a business staple whatever the industry, and if your office network or WiFi lags, then the quality of your workforces output will suffer.
2. Updates take forever - and you're noticing compatibility issues.
Whether it's something as small as your office software license expiring without you realising or not being able to install the latest OS update, not keeping on top of computer hardware or software updates can lead to lost time and unfortunate breaks when you're in the middle of a task.
Make sure your IT department or your IT providers are checking and communicating about planned updates regularly, so your team can make allowances and plan accordingly.
The problem with not auditing and updating your IT equipment systematically can lead to more lost working hours and if you are noticing that certain machines or devices are lagging, then they will most certainly be frustrating (or impossible) for your team to work on.
3. Your systems are not compliant
Due in large part to the GDPR, computer and data security is one of the most important measures of a good IT strategy. But beyond simply keeping a data map of your sensitive information, legally your business is now required to ensure that backups are secured and stored safely.
If your company's CRM, hardware and network security are not routinely reviewed and updated, there is a real risk of your business losing data through inadequare protection - and worst-case scenario - an outdated system could leave you open to a data breach and costly fine.
4. Your technology isn't changing with the rest of your business
As the rest of your business scales, a sure sign that you need to look at your IT lifecycle is that your technology (or again your IT provider) is not growing with the rest of your company.
In the past decade, how businesses are housed, run and how we allocate certain tasks have all completely changed. We predominantly use mobile devices or laptops as our standard means of working, and with the added connectivity with remote access, conference call technology and online collaborative platforms the best way to get the most out of your workforce is to keep them connected remotely yet still securely.
But what about how people work when they are actually in the office? Remote working and mobilisation means that WiFi connectivity is no longer simply an optional extra to the ethernet standard. Investing some capital and troubleshooting your wireless infrastructure will give your team the freedom to work wherever they feel most productive.
Setting up hot desks is a good cost-cutting tool, especially if your team works across multiple sites. But, making sure your infrastructure can facilitate a more mobile environment is worth considering before getting rid of your tower PC and ethernet set-up.
5. Your office downtime is on the increase.
Nearly every business experiences some sort of outages, planned maintenance or unplanned systems failures, but the more your employees find outdated or poorly-supported systems and hardware frustrating, the less likely they are to be productive at work.
With planned downtime, the intent is for staff to make amendments to their workload, which shouldn't impact staff productivity. However, if you are finding that updates and downtime seems to be hitting the office from out of the blue, then you might find it hard to keep your team on task.
So, how can you get the most out of your technology?
If you've realised that your approach to your technology might be falling by the wayside, the rules to follow are simple - research, record and revisit.
Even simply logging hardware specifications and software licensing in an IT Asset Register will help keep your technology working without interruption during business hours and help you accurately plan your future IT lifecycle.
And by making even a minimal investment in updating and refreshing your technology, you will save your business substantial money in the long term.
If you'd like to find out more about making the smartest technology decisions for your business, then Grant McGregor have a free IT strategy guide available to download now!
Or call our friendly, straight-talking team on 0808 164 4142.
Just wanted to say a big thank you to Dan for his help today. Above and beyond and very patient with a beginner like me.

- Read in full
Pegasus Couriers
Daniel Floyd, Pegasus Couriers