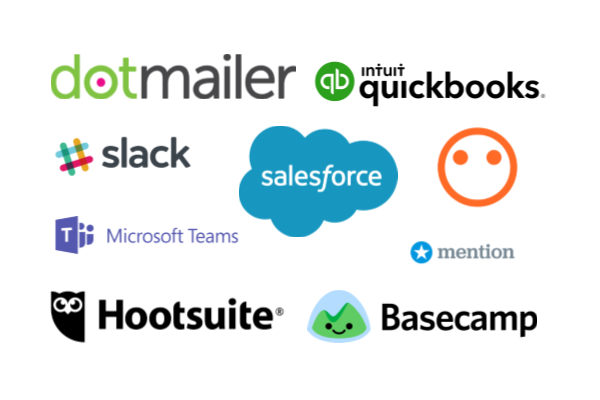 The app store abounds with apps of all kinds and picking the ones that are right for your business can be a challenge. In this article, we will run through some of the most popular apps to help small businesses improve their productivity.
Productivity apps can range from specific productivity-oriented solutions designed to engender better inter-team working and process improvements through to specific task automation that can help to increase productivity in a particular business unit or activity.
As a result, productivity apps for small businesses tend to fall into several broad categories:
• Project Management
• Teamwork/ collaboration
• HR
• Finance/ Accounts
• Field Service Management/ Duty of Care
• Payments, retail, e-commerce
• Email marketing
• CRM
Project Management and Teamwork
The two leading apps for better project management are probably Microsoft Project and Basecamp. Basecamp offers a simple way to organise workflows and communications for particular projects or activities and make it easy to keep everyone in the loop. Microsoft Project is an advanced tool for all types of project management, with familiar email integration, out of the box templates and real-time reporting.
Both offer a free 30-day trial but, after that, you will need to subscribe. However, since they are both Software as a Service (SaaS), you won't be paying any major upfront costs for either of them.
Microsoft has done much in recent years to catch up with these SaaS productivity apps and its Microsoft Teams allows easy organisation of communication, documents and workstreams by teams and projects. Teams also has the advantage of full integration with the other Microsoft Office 365 suite of products.
If you want to monitor productivity across the business, an app such as TimeCamp may also be worth considering – it tracks users' time spent on different work and enables you to see exactly where and how you and your employees are spending time. It's especially useful if the work you do includes billable hours.
Slack is a great tool for collaboration within your organisation. A form of instant messaging, it allows you to create different chat rooms, private groups and direct messaging. All content is searchable, including files, conversations, and people. There is a free version which limits you to the 10,000 most recent searchable content, a very worthwhile tool to start departmental collaboration. Slack is a fit for all users with desktop and as well as a mobile app version so you can chose to be alerted when on the go.
Finance and HR
Small businesses can save huge amounts of time and effort by choosing online tools for managing accounts and finance more easily. Perhaps the leaders in software-as-a-service financial software are Freshbooks and Quickbooks.
Freshbooks simplifies invoicing and expenses, automating key tasks to improve productivity, and integrates with Stripe so you can take payments online. Quickbooks is slightly more full-featured; offering invoicing, payments and expense management as well as additional functionality for VAT and payroll.
Meanwhile, your HR operations can be catered for by the likes of HR and benefit management apps such as GoCo or Zenefits . Supplement these with learning management platform Grovo and outsourcing services like Upwork or People per Hour and you can easily grow your team with minimum effort.
For monitoring employees in the field, Crystal Ball is ideal for small businesses. Because it offers tracking through a mobile phone app instead of expensive proprietary hardware, you can monitor and track field agents and delivery drivers to automate administration and fulfil your duty of care without large upfront cost using a system that can scale up with your business.
Sales and Marketing
Salesforce practically invented the software-as-a-service model – although it's probably now best described as a platform-as-a-service business given the wide community of third-party providers delivering apps and add-ons for the CRM system. Its pay-as-you-go pricing model and wealth of options means Salesforce remains a great option for businesses looking for a CRM with a low entry cost but that can scale with your business.
Sales and marketing is well catered for by the SaaS market – especially in the number of tools available for measuring and managing your social media and online activities. Hootsuite should probably get an honourable mention here. And another starting point could be Mention; a great little tool for monitoring when and where your company is being talked about on social media. . Meanwhile, if you want to encourage social sharing internally, a new British-made app called welikeit helps you to inspire your employees to become social advocates.
If you are serious about building an online community and driving sales through your online channels, it could be better to invest in a package like HubSpot to drive productivity. It doesn't come cheap, but you have the infrastructure you need to grow in place from day one – which will save time and effort later on as you outgrow the freemium alternatives.
Finally, another little tool marketers in small businesses should add to their tools box is Snappa. It enables you to quickly and easily produce quality bespoke graphics without the need for a professional designer. You can use it for free, but its worth signing up for the paid-for version so you can save the files you create in the app for subsequent updating or editing.
In regards to email marketing, dotmailer is well-established as a brilliant marketing automation platform for businesses and marketers. With its easy-to-use editing tools, you can quickly produce beautiful and professional emails. It is also integrated with software products including as Salesforce and Magento, and has a number of other useful tools and services such as marketing automation, landing pages and reporting & analytics.
These productivity and business process automation tools can help small businesses to improve productivity and optimise costs. With low or free entry-point pricing, these apps make it easy for businesses to trial what works.
However, if you would like to take a more strategic approach to software selection and trialling, we recommend you speak with a Grant McGregor consultant. We can work with you to establish business needs and requirements and help you select the tool most appropriate for your needs.
For further help and advice Contact Us or call our team on 0808 164 4142.
Just wanted to say a big thank you to Dan for his help today. Above and beyond and very patient with a beginner like me.

- Read in full
Pegasus Couriers
Daniel Floyd, Pegasus Couriers