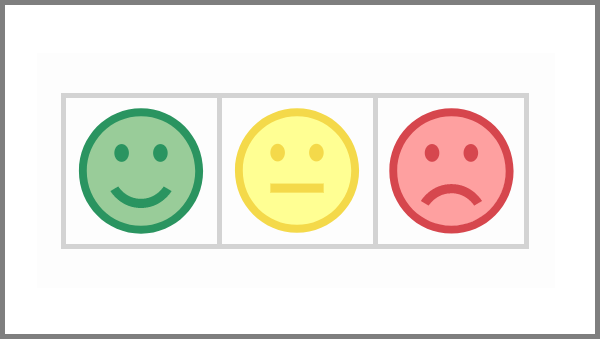 At Grant McGregor, we have some important company values to ensure a great company culture for our people and so that they deliver a superb level of service to our customers.
In order for us to provide the best customer service we can, we constantly seek feedback in our daily working lives – feedback from our clients, their end-users and from one another. We've used surveys at the end of service 'tickets' or help requests for a number of years and though we had good stats, the response rates weren't as high as we felt was needed to get a full range of feedback.
As a result, earlier this summer we implemented a new system for garnering Customer Satisfaction (CSAT) feedback using the same type of system you see at the end of airport security and other public-facing places – the smiley faces.
Now, every time a service ticket is closed by our Servicedesk team, a simple email survey is sent out with the 3 faces; happy green, neutral amber, and sad red. There's an optional facility to add a comment and all of these reactions are then tracked by the head of our Servicedesk team. It also helps us to see where a particular member of our team is correctly balancing handling a quantity of requests with the quality of that work measured by the customer once completed.
So once a ticket has been closed and resolved, each client employee can directly rate Grant McGregor's service in dealing with this problem, giving us a Customer Satisfaction Score. These are created by the client clicking on that green, amber or red smiley face – representing positive, neutral or negative reactions.
This little loop allows us to measure the "net happiness" of every request that is resolved. Clients can also leave feedback through a comment and we can react to any feedback which is negative or indifferent (and even some of the positive ones!)
This simple system gives us metrics on our team's actual performance from the most important perspective – the end user customer on the receiving end of that service - and allows us to set Key Performance Indicators (KPIs) for quality as well as quantity. We use the feedback from our CSAT system – positive or negative – to help us improve our own performance so we know what we're doing right and what we should work to improve on.
The GM team has received nearly 1000 reactions to date (that's around a massive 75% response rate) and we have over 95% of them being positive and less than 2% negative. We always strive to give the best customer service possible with 'Commitment' and 'Quality' being just two of our core values at Grant McGregor so we were happy to see in September some great feedback from our clients;
"Excellent service, quick, efficient & friendly!"
"Clear and patient instruction. Problem resolved."
"Very quick response, delighted :)"
Receiving feedback – particularly when it is so positive – is always brilliant...
However, the indifferent or negative responses have also enabled us to engage with a customer to either find out exactly how we could help them better in future or to set clear and accurate expectations both ways.
Rest assured, with this help from you, our customers, we will work hard to keep getting more of those green smiley faces!
:)
Thanks for all the feedback and please keep it coming!
Just wanted to say a big thank you to Dan for his help today. Above and beyond and very patient with a beginner like me.

- Read in full
Pegasus Couriers
Daniel Floyd, Pegasus Couriers