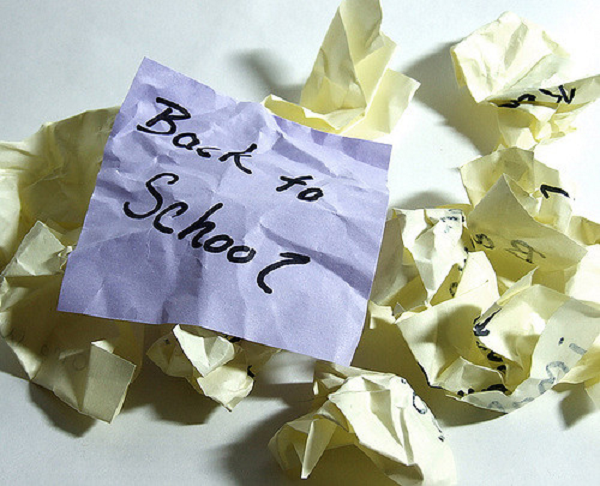 Can you believe that schools are back already? (Well here in Edinburgh anyway). And everyone's getting ready for the new term.
Well if the thought of summer being over and the days getting shorter fills you with dread, then it might be time to get ready in all respects. For example, are you worried about going back to work and having to deal with an unhappy IT situation or a provider that isn't working well for you?
Then why don't you start the new season on a high with a new IT support provider in Grant McGregor!
Whether you currently don't have an IT provider, you are looking to improve your IT set up or you've lost trust or respect for your existing provider, then Grant McGregor is ready to help.
The idea of reviewing your IT situation and having to choose a new IT provider can seem daunting and perhaps stressful. To make this process that bit easier, we have complied some tips to help you understand what your business requires regarding IT and how we can help.
Appropriate new IT software and solutions
The first areas you need to evaluate are your IT software and solutions. Are they producing the results you need and helping you to run your business more efficiently? If the answer's no, it may be time to see what else is out there.
Similarly, if your software and solutions are reaching their end of life or require an expensive upgrade, you'll be wise to shop around and see if there are other solutions that can better meet your needs.
This is something that the team here at Grant McGregor can help you with. Whether you're looking to migrate to the cloud or facilitate remote working, we can help you find the right IT solutions to do it.
We have been awarded Gold Partner Status by many of our software vendors due to our excellent product knowledge and dedication to finding clients the best solutions to meet their needs.
Straight-talking IT consultancy
Could you do with a little extra guidance? Perhaps you're looking to expand your IT operations but don't know where to start? Do you trust in the advice you're getting? Whatever your requirements, our expert IT consultants can help you by assessing your systems and providing unbiased recommendations.
Unlike other IT companies, we're not tied to one particular vendor, so you can have the peace of mind that we won't just offer solutions that help to increase our sales quotas. Instead, our IT consultants will work closely with your business to ensure you get everything you need out of your IT systems.
From improving productivity to increasing security, we can help you improve your business going forward. What's more is that we'll provide our advice and recommendations in plain English, so you don't have to worry about getting confused or caught out by tricky IT jargon.
Effective IT support
Now is the perfect time to evaluate the effectiveness of your IT support company. Are they providing the services you need and delivering the promised results? If they are lazy (or non-existent) with their software updates, fail to answer the phone or your emails and have left your business exposed to vulnerabilities; perhaps it's time to look elsewhere.
Grant McGregor understands just how stressful the thought of changing IT support providers can be and many businesses are put off changing their IT support company as they think it will result in months of disruption or chaos. But it doesn't have to be this way. As an experienced IT company, Grant McGregor has carefully developed smooth processes which will make the changeover process as easy as possible. What's more, we'll also provide you with an IT Service Guarantee for your complete peace of mind.
Better the Devil?
If you're still not sure whether to take that first step in contacting us, find dozens of examples of how well this turned out for other businesses like yours here on our Testimonials page. In this example from Forster Group you can see that we not only significantly improved their experience of IT but we saved them considerable money on support costs too.
No matter how big or small your company is Grant McGregor will offer dedicated support services to meet your needs. It's not just the technology we support either. We provide support to those who matter most – your people.
So let Grant McGregor help you get over the doom and gloom of summer being over and kick-start the new season on a brighter note! Call Jon Towers on 0131 603 7910 for an initial chat to discover if we might be a good fit for one another.
In the meantime, enjoy the rest of the summer, now that the sun's finally arrived!
Finally, if you feel you're putting up with an average IT service and getting poor value for money, then get yourself a free copy of this guide on 5 Steps to Better Value IT. Discover why a better-the-devil-you-know approach can fail you and your business and how to rectify that.
What do you have to lose...?
Image source: Flickr
Just wanted to say a big thank you to Dan for his help today. Above and beyond and very patient with a beginner like me.

- Read in full
Pegasus Couriers
Daniel Floyd, Pegasus Couriers