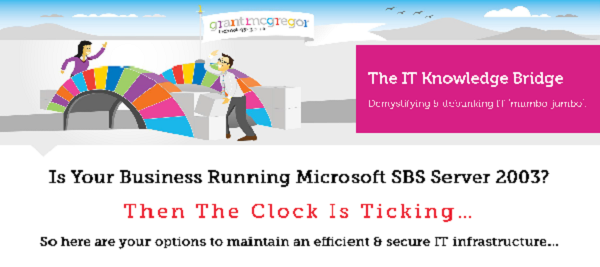 On the 15 July 2015, Windows Server 2003 finally reaches its official Microsoft 'end of life' date.
This is an important date for many small businesses because it's at the core of the Small Business Server 2003 Suite (SBS 2003) - and that's used by 1000s of businesses across the UK. Some businesses do run Windows Server 2003 on it's own as a main Operating System - and the clock is ticking for them too!
What's the threat and why should this be so important to you?
You see, beyond that date in 2015, SBS 2003 and Windows Server 2003 will no longer be supported, updated or be protected by Microsoft - leaving those still running it vulnerable - right at the heart of their IT systems.
So that means anyone using SBS 2003 or Server 2003 for their business needs should start making a plan - today!
Unfortunately, there's no longer a straightforward upgrade path option to migrate to the latest version of Small Business Server either. That whole product suite was phased out by Microsoft at the end of 2013, with some of their newer server products such as Windows Server 2012 and Cloud services such as Microsoft Office 365 in mind as replacements.
So, whilst Microsoft SBS Server was a great platform that helped many small businesses to set-up and manage their IT infrastructures, it's no longer a viable option. So what should a business still running SBS 2003 do?
We've created a short guide, that offers some valuable insight into the best upgrade options open to those businesses still running Microsoft Small Business Server 2003.
View the SBS Server 2003 Guide as a PDF or download it to read - but don't leave it too long.
Just wanted to say a big thank you to Dan for his help today. Above and beyond and very patient with a beginner like me.

- Read in full
Pegasus Couriers
Daniel Floyd, Pegasus Couriers