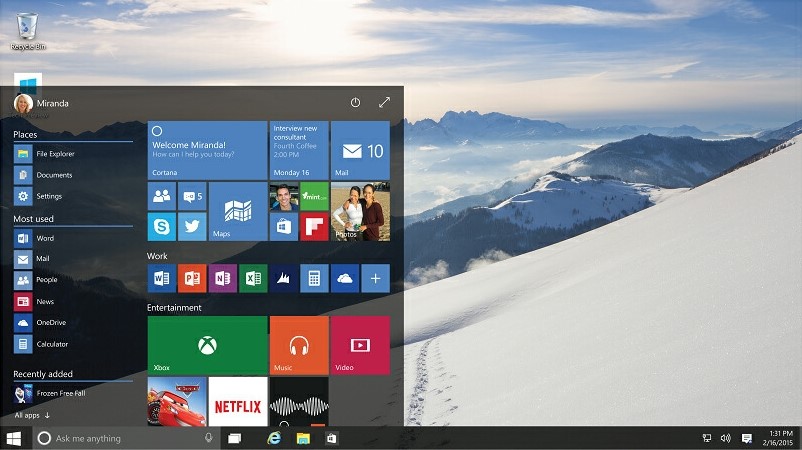 You may remember back in October we first reported that Microsoft had announced plans for their next operating system, Windows 10. At the time, there was little information available regarding its specification, launch date and pricing. Fast forward a few months and the details are just starting to emerge so we thought we'd give you a much-needed update.
Windows 10 – New features and information
A new internet browser - Windows 10 will not use Internet Explorer as its primary browser. Instead it will use Spartan, the company's first new browser in nineteen years. This browser will be equipped with Microsoft's personal assistant tool Cortana, which will provide users with notifications and act as a search tool. It will also allow users to annotate webpages and save them to read later.
The start menu is back – After all the uproar caused by the loss of the start button in Windows 8, Microsoft is bringing it back for Windows 10. The reason for this is that they believe it will provide users with a sense of familiarity. However this doesn't mean the Windows 8 tiles are being ditched. Instead they will appear when you open the start menu, making it easier for touch screen users. The start menu will also be fully customisable and give users the opportunity to switch between a classic and modern theme.
Continuum
This brand new Windows 10 feature will allow the operating system to automatically switch between desktop and tablet mode, depending on the device being used. For example, if you are using a tablet with a keyboard, it will switch to desktop mode.
A unified approach
Microsoft is planning for Windows 10 to run across desktops, laptops, tablets, smartphones and other devices they have developed. The company is also developing a single platform to buy software from, so that developers only have to write one piece of software for all devices. This unified approach will make it much easier for users to manage all of their Microsoft devices and appliances.
Security
It is believed that security will be a key selling point of the new operating system, with Microsoft claiming that its new security features could have stopped a couple of the high-profile hacking cases of 2014.
Windows 10 release date
Microsoft has announced that it will be releasing testers for their new operating system and these will also be available on Windows Phones from February. They are still keeping quiet about the launch date of the full version of Windows 10 though and have simply said it will be available 'later in the year.'
Windows 10 price
It has been announced that Windows 10 will be free for a year to users that are currently using one of the following operating systems:
• Windows 7
• Windows 8
• Windows 8.1
Microsoft have not yet confirmed how much the operating system will cost new users or existing users after the first year is up.
Other Microsoft news
In other news, Microsoft is creating a new wireless holographic headset known as HoloLens. This piece of virtual reality technology will run on the new Windows 10 operating system; however, it will be independent of smartphones and computers.
Users will be able to use HoloLens to create their own holograms using Microsoft's new HoloStudio software and bring it to life using 3D printing.
At the moment, Microsoft will not talk about the price or when it will be released. However, they have said that it will be ready in time for the launch of Windows 10. We have to say, we're rather excited about this!
Back to Windows 10…
Since Microsoft announced it was developing Windows 10, over 1.7 million people have signed up for beta testing and it has been installed on over three million devices. However, the company has said that more features will be added and refined over the next few months, so we'll be sure to keep you updated! Watch this space!
Image credit: NeoGeneric
Image source: http://upload.wikimedia.org/wikipedia/en/0/03/Windows_10.jpg
Just wanted to say a big thank you to Dan for his help today. Above and beyond and very patient with a beginner like me.

- Read in full
Pegasus Couriers
Daniel Floyd, Pegasus Couriers