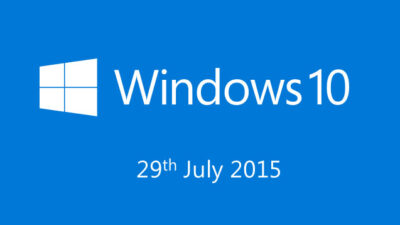 Windows 10 official released date is tomorrow and many of you will log on and receive a reminder to register for the upgrade from Microsoft. You have a year to register for the free upgrade so there is no rush to do this straight away, especially in the workplace where it could cause issues and overload IT Admins. It is better to speak with your IT department or outsourced IT company and schedule this upgrade to take place when it is least likely to cause disruption to your organisation...and here's why!
Check out an earlier news item we posted on 'Windows 10 – new offerings and dangers of registering for automatic upgrade on 29th July'.
Are you able to upgrade for free? Well, if you are currently running Windows 7 or 8.1, in most cases the answer to this will be yes but there are some versions of Windows and editions that DO NOT qualify. Most people have a year to complete the upgrade, however, if your company has a valid Software Assurance agreement then you will still be able to upgrade for no additional cost, even after the year.
Additional notes on qualifying for a free Windows 10 upgrade:
• Your target computer must meet minimum Windows 10 requirements, but according to Microsoft, if your computer runs Windows 7 or Windows 8.1 it is likely compatible with Windows 10
• Current Windows 7 Enterprise & Windows 8.1 Enterprise users without a Software Assurance agreement must purchase the Windows 10 Upgrade license to move to Windows 10 Enterprise
• Current Windows SA customers should have access to Windows 10 via VLSC on 8/1/15
• Windows RT devices are not eligible for the Windows 10 upgrade offer
Spiceworks and Dell have created an easy to follow decision chart so you can clearly see if you are eligible for the free upgrade.

Have you got a question about Windows 10 or do you need help preparing for the upgrade? Get in touch with Grant McGregor today.
Just wanted to say a big thank you to Dan for his help today. Above and beyond and very patient with a beginner like me.

- Read in full
Pegasus Couriers
Daniel Floyd, Pegasus Couriers