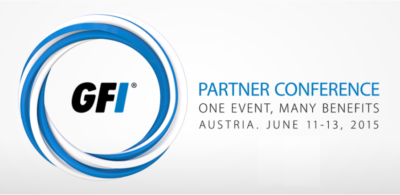 As one of GFI Software's key, strategic Gold Partners in the UK, Grant McGregor was invited to attend the Worldwide GFI Partner conference in Vienna earlier in June. Find out what we discovered about what the future holds…
One of our directors, Jon Towers, used a variety of 'trains, planes and automobiles' to make the journey to Bad Blumau due south of Vienna to find out what the future holds for the world of IT security, software delivery and for GFI Software and its key worldwide partners in particular.
Through a combination of technical, product sessions; one-to-one sessions with GFI developers and senior executives; informal meetings and presentations, Jon learned more about GFI's exciting strategy and vision for the next few years to come. More importantly, over three days, Jon explored some of the latest challenges facing the IT industry and the key business drivers, their impact on business and how Grant McGregor and GFI can help others to best meet these challenges.
2015 has already proved to be a ground-breaking year for GFI and for key Partners like Grant McGregor. The creation of separate entities for GFI and the MSP business (now called LogicNow) has enabled GFI to return to its roots, to refocus its energies on the products that matter and to look to the future with a vision that has been honed by well over a decade of innovation.
There was also a major product launch that you'll hear more about in the coming weeks but suffice to say it's a great "platform" to build on.
One key message was that not enough business people are taking IT security seriously. On the IT side, it is pretty well understood and the need to secure our systems is often clear and undoubted. Security was aptly described as "a cost of running a business." And yet, some 80% of attacks address known vulnerabilities that could and should have been prevented. Why? Is it lack of time? Lack of budget? Lack of knowledge? Or a combination of some or all of these?
Certainly, a key finding of a recent survey of stress levels of IT admins and IT managers is that one of their scarcest resources is time.
Time is certainly something that a combination of Grant McGregor and properly-deployed GFI Software solutions can help free up so that everyday security tasks such as patching vulnerabilities and protecting systems can be handled in a more automated, but thorough, way.
We were delighted to discover that one of GFI's best-loved products (that deals with vulnerability scanning, patch management & remediation and network & software auditing called GFI LanGuard) was recently awarded Best Vulnerability Management Solution in the 2015 SC Magazine awards. A great accolade for this multi award-winning software that is used by companies from 10 to well over 1000 seats. Better still to see that GFI continue to develop this powerful solution to make it even more compelling and scaleable for the future.
Jon was even more delighted that the team at Grant McGregor was awarded Best UK GFI Partner at the Conference for our unwavering commitment, strong technical ability and fantastic customer service record. This, indeed, was the icing on the cake of a great few days in understanding how GFI Software will continue to serve the SME sector (and larger organisations too) with affordable and appropriate technology that save busy IT staff precious time to enable them to focus on improving business systems and adding value – not just maintaining Business As Usual.
Look out for further details on GFI Software product developments and how they apply to you. We'll also be posting details of our award from GFI and why this means that you can benefit from our years of experience, our depth of expertise and our strength of customer service when you buy a GFI Software application from Grant McGregor.
Have a look at a recently published article we produced - 50,000 Ways to Save Yourself Time When Securing Your IT Network
Please contact David Bell or Jon Towers on 0131 603 7912 to find out more about whether GFI could be a good, time-saving solution for you!
Just wanted to say a big thank you to Dan for his help today. Above and beyond and very patient with a beginner like me.

- Read in full
Pegasus Couriers
Daniel Floyd, Pegasus Couriers