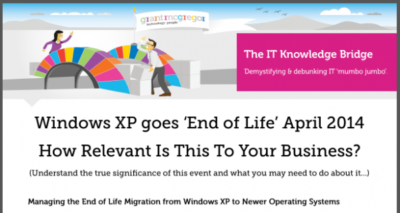 Windows XP goes end of life 8th April 2014
- but what does this mean to you?
Understand the true significance of this event and what you may need to do about it…
Today's advisory article concerns an important topic not to be ignored:
It's about Managing the End of Life Migration from Windows XP to Newer Operating Systems
Like most things in life, Windows products have a life cycle. It begins with a launch of a product and ends when that product is no longer supported or offered.
One recent, important end of life product announcement is for users of Windows XP. It also concerns Microsoft Office 2003. Users will no longer receive extended support and updates after 8th April 2014—that's sooner than you think!
In this brief but important article we'll discuss what this actually means for small business owners and organisation managers still using XP PCs or Laptops on their network and how to manage the end of life migration to a newer operating system.
How will it affect small business owners and managers of organisations still using XP?
Let's get one thing out of the way—this is not like the non-event that was the 'Year 2000 Millenium Bug'! Nor is it a case of the IT industry over-reacting to an event like Y2K.
Many people feel that such 'end of life' announcements are just IT scare-mongering that require no action at all. Yet when a long-used operating system like Windows XP goes 'end of life' you can't afford to ignore it or bury your head in the sand.
Why not?
Find out right now in this short guide - request your guide to managing the XP end of life here or click the image below!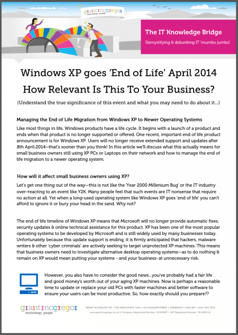 This brief but important guide will help you to:
- Understand the likely impact of this to your organisation.
- Consider some of the best options available to you.
- Decide what you need to do to avoid negative impacts.
- Develop a plan to successfully manage the transition.
If you are still running Windows XP or Office 2003, then simply sticking with these versions will only lead to potentially serious problems once the end of life date has passed.
Don't forget that there are a host of positive reasons to upgrade some of your older hardware and software. It's not all negative - talk to us to find out some of the other, positive reasons to upgrade from XP...
Just wanted to say a big thank you to Dan for his help today. Above and beyond and very patient with a beginner like me.

- Read in full
Pegasus Couriers
Daniel Floyd, Pegasus Couriers