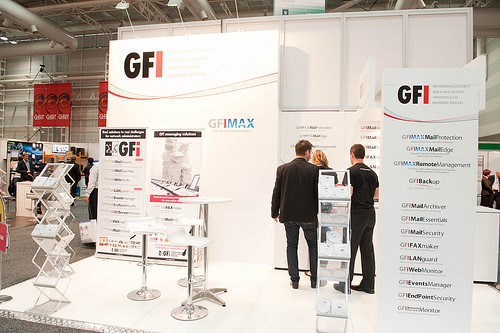 Recently GFI Software announced that they would be rebranding their Cloud-based Software as a Service (SaaS) platform to be called ControlNow. The newly branded service, which has taken over GFI Cloud and MailEssentials online, will offer the same excellent levels of protection, just under the new banner of ControlNow.
ControlNow is an integrated IT infrastructure management platform that aims to streamline business IT operations, helping businesses and organisations to save time and money, whilst also allowing their IT staff to focus on tasks that have more of a direct impact on their business success.
Using the Cloud-based platform, IT administrators will be able to control most aspects of their IT infrastructure immediately. We have outlined some of the key elements included in the platform that make it such a compelling and easy-to-use toolkit:
1. Patch management – The ControlNow patch management tool supports Microsoft, as well as many other third party applications and browsers. It uses group policies and facilitates reboot scheduling.
2. Anti-virus – ControlAntivirus is designed to protect devices from attacks. It offers great protection, with features including USB device scanning and endpoint scanning.
3. Web protection – This application allows for website filtering, protection from infected websites and bandwidth throttling.
4. Remote control – This feature allows IT support engineers to control multiple machines simultaneously and easily.
5. Monitoring – This service helps you ensure that all workstations, servers and laptops operate at peak performance.
6. Asset tracking – This solution allows businesses to keep track of their physical assets.
The news of this rebranding comes not long after GFI Software's corporate restructure in September, which led to the creation of LogicNow. LogicNow includes MAXfocus (formerly GFI MAX), IASO Cloud back-up and ControlNow and will continue to offer these technologies under the same subscription model as before.
Along with the integrated remote IT management and security platform, designed to deliver improved efficiency and security to end users, ControlNow also has ControlEmail within its portfolio. This is a hosted email security, filtering and archiving service.
ControlNow is one of the few IT management solutions that were actually 'born in the Cloud' and is proving to be a huge hit with businesses all over the world. It is increasing its market share at a rapid rate, winning customers from established and traditional brands.
One of the reasons why ControlNow is so popular with businesses is that it provides better solutions to the new challenges their IT administrators face. Whereas in the past they only had on-premise software and applications to manage, today they have those, along with cloud-based and mobile applications to manage, making the task far more complex.
Luckily, ControlNow combines market-leading, cloud-based tools into a single management platform to make managing software and applications (on-premise, cloud-based and mobile) a far easier and less time consuming process. This in turn gives IT administrators more time to spend on higher priority in-house business tasks or business improvement projects.
Along with announcing the rebrand of GFI Cloud's Software as a Service, the company also announced that it would be rolling out a partner programme for ControlNow. This new partner programme will include existing GFI Cloud and MailEssentials Online resellers (like Grant McGregor) and all MAXfocus customers, enabling them to resell ControlNow products to their clients.
For more information about ControlNow and how the integrated cloud-based platform can benefit your business, feel free to get in touch with a member of the Grant McGregor team. Call us on 0131 603 7910 or use the live chat app on our website.
Just wanted to say a big thank you to Dan for his help today. Above and beyond and very patient with a beginner like me.

- Read in full
Pegasus Couriers
Daniel Floyd, Pegasus Couriers