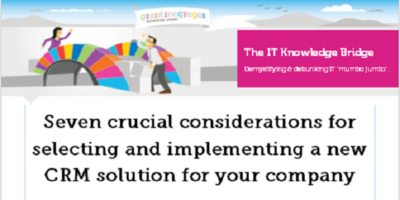 Today many businesses use Customer Relationship Management (CRM) solutions to help them carry out a wide range of processes from managing customer data and interactions to automating sales and customer support.
CRM is crucial to all kinds of businesses, but with so many different solutions available, how do you go about choosing the right one for your company?
Operational or analytical? On-premise or Cloud-based? There are a number of decisions to make when choosing the right CRM solution for your company. And as your business expands, you need to have the peace of mind that you have chosen a CRM solution that can grow with it.
We have taken the time to outline some of the different CRM solutions available and identified seven key considerations when selecting the right one for your business.
Get your free copy here today - Seven crucial considerations for selecting and implementing a new CRM solution for your company

Just wanted to say a big thank you to Dan for his help today. Above and beyond and very patient with a beginner like me.

- Read in full
Pegasus Couriers
Daniel Floyd, Pegasus Couriers