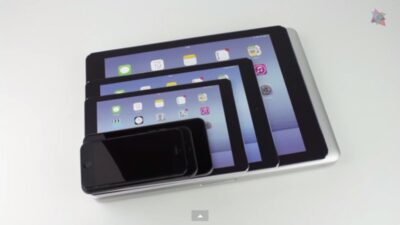 We always try to keep you informed of anything that is going on in the IT industry and especially so if it could have an impact on you or your business. With the anticipated launch of Apple's new iPhone 6 on Tuesday 9th September, this week will be full of lots of news and reviews of it. iPhone 6 will run on iOS 8 which will offer a range of new features and intuitive ways to use your compatible device.

Whilst it will be available with the new iPhone 6, it is not yet clear which other specific devices will be able to employ iOS 8. However, many users of compatible Apple devices will be swift to update to this latest version once it is released. When this took place last year for the iOS 7 update, internet traffic in the UK doubled and we are expecting that similar issues could occur again this time round.

So how might this actually affect you?
It is widely anticipated that internet speeds will run slower than usual for a few days after the update has been released. The actual day of the release has now been confirmed by Apple as Wednesday the 17th September.

In this day and age, the internet plays a prominent role in the day-to-day running of any business so you could well encounter some issues as a result of this increased activity. If your business uses internet hosted email such as Office365, Cloud-based services, uploads and downloads files, uses online banking, has a company website, uses the internet for purchasing or selling products... then all of these things could well be running slower than usual.
As a proactive IT services company, Grant McGregor wanted to forewarn you that you might experience some of these issues over the next week or so. Of course, we can only base this on our experience of the last big update that Apple released. Internet providers will be actively managing networks to minimise the impact of this increased traffic, however, we do still anticipate a likely impact to both you and your customers.

Hopefully that impact will be minimal and you may only experience slight delays. However, the sheer volume of people who are likely to quickly download this new software is so great that the traffic around the UK internet is bound to increase. Naturally, there will be peaks and troughs to this increase and the hope is that UK businesses can continue to operate with as little disruption as possible.

It may be worth you circulating this information to your staff and colleagues internally so that you have advance warning to be prepared for delays, should these occur.

When will you update your Apple device to iOS 8?
Just wanted to say a big thank you to Dan for his help today. Above and beyond and very patient with a beginner like me.

- Read in full
Pegasus Couriers
Daniel Floyd, Pegasus Couriers