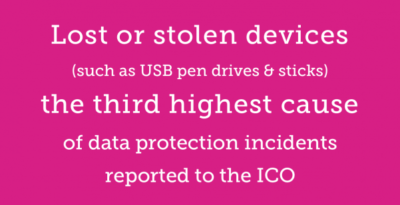 Lost or stolen devices (such as USB sticks & pens) were the third highest cause of data protection incidents reported to the ICO in Q1 of 2013.
A recent survey conducted by Grant McGregor Ltd confirms that many IT Managers are still very concerned about the potential for sensitive data to leave the business on portable devices.
Yet lost or stolen devices such as USB pen drives & keys was the third highest cause of data protection incidents reported to the Information Commissioners Office in Q1 of 2013.
This trend reveals that whilst this issue remains a key concern, few organisations are actually taking the necessary steps to prevent such data movement or to at least encrypt it.
That's why I'd like to introduce you to an award-winning solution that helps network managers prevent data leakage or theft through the comprehensive control of access to portable storage devices yet with minimal administrative effort.
It's called GFI EndPoint Security.
In addition to ensuring all of your sensitive data is kept secure, GFI EndPoint Security also helps prevent malware and unauthorised software from entering your network via Portable Media.
And the 2013 release now also protects your data whilst on removable devices with the use of AES 256-bit encryption. GFI EndPoint is a product which is recognised in line with PCI and UK government compliance legislations.

When users connect to your network with a USB device containing unencrypted data, they are prompted to enter a password. GFI EndPoint Security then encrypts all the contents on the device. After that, data can be accessed normally, with the added benefit of being encrypted using a strong AES 256-bit or 128-bit algorithm.
Want to protect your business data from wandering?
Find out how GFI EndPoint Security has helped our client, Johnston Carmichael (a large firm of Chartered Accountants), to secure their data from unauthorised movement on portable devices.
"We took the decision to progress with GFI EndPointSecurity mainly on cost-effectiveness but also on the valuable pre-sales help afforded us by our supplier, Grant McGregor Ltd."
Keith Ross IT Technical Director - Johnston Carmichael
Read Johnston Carmichael's case study on using GFI EndPoint Security effectively here and find out more about how you could readily secure your business information with GFI EndPoint Security.
Better still - if you'd like to see it in action, you can request a free, 30-day trial of GFI EndPoint Security. We can then help ensure you've set it up as you need it to be & tour you through all the options.
Just wanted to say a big thank you to Dan for his help today. Above and beyond and very patient with a beginner like me.

- Read in full
Pegasus Couriers
Daniel Floyd, Pegasus Couriers