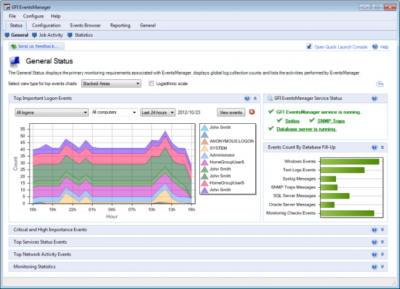 GFI EventsManager® helps busy Network IT staff to manage event log data for system reliability, security, availability and compliance.
Events Manager has absolutely nothing to do with helping someone to plan a wedding, set up the Edinburgh Festival or to organise a big conference.
No it's a log data analysis tool for Security Information and Events Management - otherwise known as SIEM.
With EventsManager, IT staff can monitor security-relevant policies, mechanisms, applications and activity to identify security incidents quickly. Analysis of log data, including SNMP traps, Windows® event logs, W3C logs, text-based logs, Syslog, SQL Server® and Oracle® audit logs is all made much more simple and much less time-consuming.
With a simple interface, GFI EventsManager provides compliance reporting - offering specific reports for some of the major compliance acts as well as other standard reports.
There's no need to take it from me or from the vendor GFI. Their latest version of this essential aid has recently been put through it's paces by the good people at SC Magazine. Their verdict - "This is a solid product that's easy to use. Five stars overall."
Although GFI includes technical support as part of the purchase price, end-users must rely on documentation and PDF guides to get them started (albeit this is pretty user-friendly). As a seasoned Gold GFI Partner, Grant McGregor can help you to buy GFI EventsManager licenses at a price starting at around £117 per node for 50 to 99 seats. Moreover, we can help with GFI Events Manager expertise to kick-start your implementation and help you to get a swifter return from your investment in it.
Both SC Magazine and our own EventsManager clients have found it to be excellent value. This combination of a well designed and easy to use log management tool that makes sense of shedloads of systems information is well worth the money.
For: Integration of mature features and functions into the product.
Against: Absence of a ticketing feature.
Verdict: Solid product, easy to use, though a weak formal ticketing solution
If you like the sound of this you can arrange a short demo of the product from Grant McGregor or you can download GFI EventsManager for a free 30-day trial to see how it would save your IT department precious time in analysing systems log file data.
Just wanted to say a big thank you to Dan for his help today. Above and beyond and very patient with a beginner like me.

- Read in full
Pegasus Couriers
Daniel Floyd, Pegasus Couriers