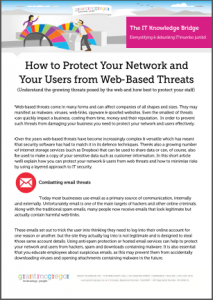 How to Protect Your Network and Your Users from Web-Based Threats
Understand the growing threats posed by the web and how best to protect your systems and your staff…
Web-based threats come in many forms and can affect companies of all shapes and sizes.
They may manifest as malware, viruses, web-links, spyware & spoofed websites. Even the smallest of threats can quickly impact a business, costing them time, money and their reputation. In order to prevent such threats from damaging your business you need to protect your network and users effectively.
But how?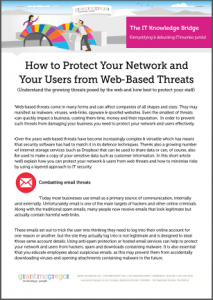 Click the Cover Image (left) to view this short, 4-page guide and you'll quickly discover:
What web-based threats are and how they seek to exploit your systems (and users).
The potentially serious impacts to your business from web-delivered malware.
How to protect your IT systems and users with a multi-layered approach.
Why you need to combine web protection tools with education for real effect.
This plain-speaking guide provides some quick take-aways and offers some practical suggestions and tools to help you to protect your systems and your staff from online threats.
Just wanted to say a big thank you to Dan for his help today. Above and beyond and very patient with a beginner like me.

- Read in full
Pegasus Couriers
Daniel Floyd, Pegasus Couriers