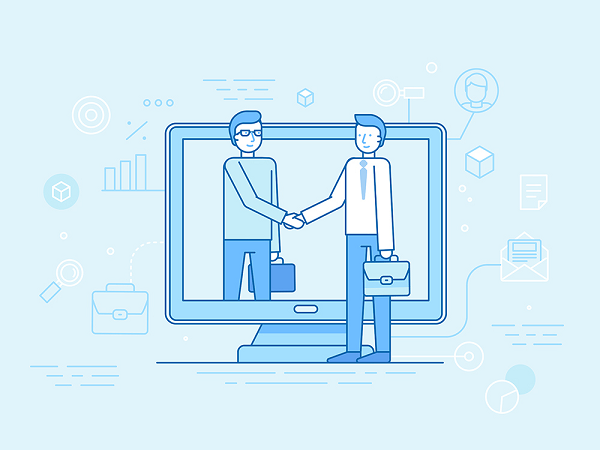 Outsourcing IT isn't just for large companies. Outsourcing IT often makes even more sense for smaller companies – giving you access to a breadth of skills and support you couldn't otherwise afford.
Typically, a company starts thinking about making its first IT hire when it gets to around 40 employees.
Up until that point, one person will (usually) have rather reluctantly taken responsibility for IT alongside their day job, probably because they've shown an interest in it or have revealed themselves to know more about IT than anyone else.
Muddling Along
Companies will muddle along in this way until their IT requirements simply become too unmanageable or when the nominated IT "expert" leaves the company. Or perhaps they're driven to hire internally because of the advent of a large IT project, such as a major website build, and the company management decide they want someone "on the inside" managing the project.
Let's deal with each of these reasons in turn, because each of them reveals something about hiring and outsourcing it's worth considering.
1. Having Trust in the Right Partner
If you're about to begin a major IT project and you think that you need to hire an IT manager internally the oversee the project, you probably haven't found the right IT company to partner with for your project.
With the right partner, you shouldn't feel the need to babysit them.
2. Getting the Cover You Need – When You Need It
And what about hiring to fill a role? While hiring a dedicated IT manager should improve the support and professionalism of decision making, you're still left with the problem of succession planning. And what of illness cover? Holiday cover? Training cover?
The benefit of outsourcing IT is you never have to worry about these things; when you outsource, they become the problem of your outsource partner.
They have a large team of support staff and engineers who will seamlessly provide the cover you need – even out of hours or at weekends.
Plus, you have the security of continuity of service – you're not constantly worrying what will happen if the talent decides to walk.
3. Never Being Overloaded
Finally, and perhaps the most crucial driver here, when your IT requirements become too onerous or complex for your existing nominated IT lead, it is tempting to think that hiring an IT manager will put an end to your problems.
The reality is that today's IT environments require very specialist skills and it is highly unlikely you can find them in a single person. Security, networking, cloud, data, web apps, online... they're all disciplines in their own right these days. And, even if you could find a polymath who knew enough about all these areas, it is even more unlikely you could afford to hire them.
4. The IT Skills Gap
IT skills are in high demand and there is a very evident skills gap right now.
A Deloitte report found that the digital skills gap needs to be addressed urgently: "Only 12 per cent of leaders believe UK school leavers and graduates have the right digital skills, down from 20 per cent who said the same in 2017. Over three-quarters are experiencing challenges in recruiting employees with the relevant digital skills."
Attracting and retaining the right talent in this environment doesn't come cheap.
5. The Cost of an IT Hire
Starting salaries for IT managers average around £40k, plus bonuses and benefits, and can range up to 70k+ depending on the location and industry in which you're operating and the skills and experience of your hire.
How much IT support could that buy you over the course of a year from an outsource partner? Plus, you gain out-of-hours and holiday cover, don't need to worry about succession planning or sick leave, have access to all the specialist skills you need, and can ramp up support when you need it for particular projects or events.
Choosing to Outsource
We're beginning to see exactly why outsourcing makes even more sense for a small or mid-size company than it does for larger companies that can afford the full complement of IT staff.
If you are on the cusp of making a decision like this, why not talk through your plans with the Grant McGregor team? We've been providing excellent, cost-effective IT support for UK businesses for more than 19 years. Our team is always on hand to answer any questions about outsourcing that you may have. Contact us on 0808 164 4142.
For more information and advice about what to look for in an outsource partner, you can download our guide below.
Just wanted to say a big thank you to Dan for his help today. Above and beyond and very patient with a beginner like me.

- Read in full
Pegasus Couriers
Daniel Floyd, Pegasus Couriers