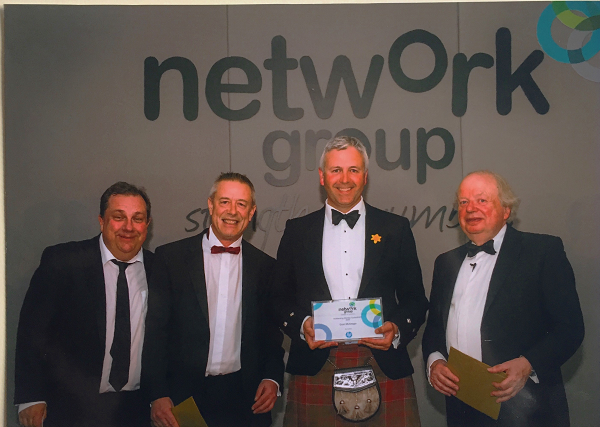 Grant McGregor Ltd receive another prestigious IT Industry Award, this time for Outstanding Member Commitment and support to our network of IT peers, the Network Buying Group.
Grant McGregor has been a member of Network Buying Group, the UK's foremost network for IT companies and Managed Services Providers, for just short of 2 years now. As part of our corporate strategy, we set clear objectives to solve our business challenges through innovative thinking and demonstrating technical leadership in all that we do. This cannot be achieved by sitting back and waiting for all the answers to come to you. You have to get out there and work to find them…
So, for Grant McGregor, open collaboration with our leading peers within the IT Managed Services industry has always been at the top of our agenda. However, it is uncommon to find peers close to home who will share knowledge and experiences openly and honestly due to the highly competitive nature of the IT industry.
When we were invited to join the Network Buying Group (NBG) in 2014, it answered our needs for open access to other IT businesses who would candidly and mutually share information and experience – a group of like-minded people who want to help one another. Not only is NBG the UK's most powerful IT buying group, (the combined buying power of the group gives us access at the highest levels into leading technology vendors) but it also fulfils our goal of collaboration and thought leadership to help shape our industry and provide our customers with best of breed, tested solutions that fit their needs.
Members get together in different locations across the UK around 5 times per year to get industry updates, to share ideas and experiences with new technologies, good and bad! And we also do sometimes work in closer collaboration to fulfil the needs for a customer who may have geographical locations up and down the country.
At the end of April, NBG held their annual Gala and Awards event in Brighton on the sunny south coast of England. The Gala is an annual opportunity for the 70 or so IT members of the group to see a focussed showcase of many of the foremost IT vendors and their hardware & software solutions in the UK SME marketplace, all under one roof. And the awards ceremony and dinner that follows is a spectacle to recognise the achievements and successes of both members, vendors and people who support NBG across the whole year.
This year, the Awards were presented by John Sargeant – journalist, broadcaster and famously also a Strictly dancer – in the Hilton Brighton Metropole hotel. A glittering occasion where awards were won by vendors, members and individuals for different categories. Grant McGregor's award was cited by NBG's Purchasing Director, Paul Rambridge who had this to say about why we won this accolade:
"Cracking, well done Jon! Grant McGregor Ltd won this award because you are genuinely nice chaps...but apart from that Member Commitment is decided by a combination of factors, and the Award therefore identifies those members that have actively and significantly increased their business through growth and directed that growth through NBG's preferred suppliers.
Our strength as a group is derived from such member commitment; it allows us to drive better deals and deliver value back to suppliers so the award is there to celebrate the members' commitment and growth. Your support has helped the group, it should be recognised and other members encouraged to show the same allegiance.
I congratulate you and your company on this achievement. Well done Jon."
Annette Robson, Executive Board manager of NBG added: "As a relatively new member, this is fantastic. You have embraced the group, contribute, and are a good asset as a member."
On receiving the NBG Award, Director Jon Towers remarked:
"The whole team at Grant McGregor is proud to have been recognised for the verve and support that we have put into NBG. It's very much been a 'win-win' for us in accessing some of the most competitive pricing in our industry that we are able to pass on to our clients but also for the fantastic friendships that we've struck-up with other professional IT Service companies of different shapes and sizes all across the UK. Some top-class people.
If we've been helpful in our service to the Group, then I can only say that the Group has been ten-times more helpful to us! We've developed more rapidly in the past 2 years than we ever could have imagined and we hope that our growth from this 'strength in numbers' will continue for many years to come."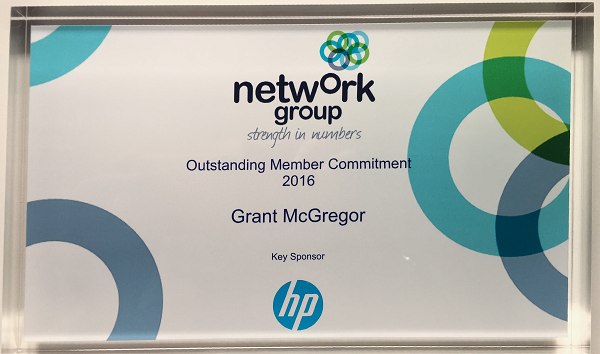 Just wanted to say a big thank you to Dan for his help today. Above and beyond and very patient with a beginner like me.

- Read in full
Pegasus Couriers
Daniel Floyd, Pegasus Couriers