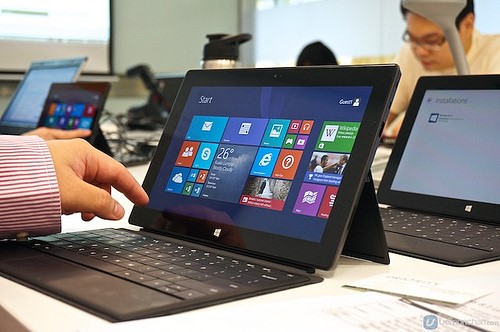 It may be a few years yet before Microsoft withdraws support for Windows 7 but businesses still need to prepare their upgrade plans early. Despite having plenty of warning about the end of XP support, many companies are still running the vulnerable operating system as they have failed to upgrade in time. It's never too early to start planning, especially if your business relies heavily on its IT infrastructure.
The real question is…do you move to Windows 8 now or stay with Windows 7 and wait for Windows 10 to arrive?
Do you avoid Windows 8?
Although businesses have the option to move to Windows 8 now, it is thought that the majority are likely to skip Microsoft's current desktop operating system and move straight to Windows 10, once it becomes available.
Microsoft launched Windows 8 in 2012 and caused a lot of controversy in doing so. The new operating system introduced huge changes to the platform, including a brand new interface, which had been designed to improve user experience on digital tablets. Whilst Windows 8 initially appeared innovative and exciting, many businesses were put off by the extreme changes. Windows 8 looked and functioned differently to operating systems they had used in the past and they didn't seem to want to embrace change.
A study which was carried out by NetMarketshare found that just 13.4% were running Windows 8 or Windows 8.1, compared to 51.2% who were using Windows 7 and 23.9% who were using Windows XP – an operating system that Microsoft no longer supports.
According to TechRepublic, few of their CIO Jury have plans to move to Windows 8, with popular reasons being that the interface is too new for the industry and that they'd rather focus their time and efforts on other challenges, rather than another Windows upgrade project. Many claimed they would be sticking with Windows 7 for now, describing it as a 'stable platform.'
Microsoft has tried to make Windows 8 a better platform for its business users by making the user interface easier to use with a mouse and keyboard, however the majority of people seem to think it's a little too late.
Waiting for Windows 10
With Windows 8 not being the most popular operating system and rumours that Windows 10 will be available at the end of this year, it makes sense to stick with Windows 7 for now and wait for the new operating system to arrive. There's no point using an operating system which introduces substantial changes if you don't have to and it will prevent you from having to upgrade twice within a short space of time.
About Windows 10
Windows 10 is being designed and developed differently from the way Microsoft has created operating systems in the past. They are taking user feedback seriously and using it to shape the future of the platform.
The new operating system has been described as 'The Windows you know, only better!' It is said to have a familiar feel for users, with the return of the much-loved Start menu, which was ditched for Windows 8. The idea is that with Windows 10, users can benefit from a whole host of innovative features without having to learn anything new, features include:
• Xbox direct from your PC
• the new "Action Centre" (where all your notifications are viewable)
Windows 10 will also automatically deliver security updates directly to devices, keeping them safe at all times. A new browser, Spartan, has been built to deliver a better web experience and Microsoft is even creating universal apps, which can be used across all devices running Windows 10.
What's even better news is that Microsoft is offering free updates to Windows 10 for qualified new or existing Windows 7, Windows 8.1 and Windows Phone 8.1 devices that upgrade in the first year.
Our advice…
Rather than paying to upgrade to Windows 8, it makes much more sense to keep Windows 7 for now and upgrade to Windows 10 once it's announced. It'll be more cost effective, time efficient and beneficial to your business. For more information, feel free to get in touch with us!
Related articles from Grant McGregor about Windows 10:
• 23/01/15 - Windows 10 – Specification, Date and Pricing Information Announced
• 02/10/14 - Windows 10 – Microsoft Releases Details for its Next Operating System
Image credits: vernieman and NeoGeneric
Just wanted to say a big thank you to Dan for his help today. Above and beyond and very patient with a beginner like me.

- Read in full
Pegasus Couriers
Daniel Floyd, Pegasus Couriers