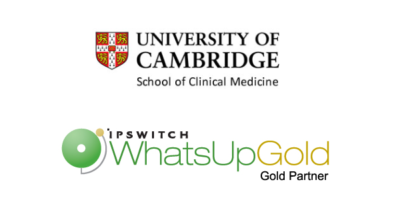 The WhatsUp Gold network monitoring software solution from Ipswitch will heal network ailments at The School of Clinical Medicine, part of the University of Cambridge.
The School of Clinical Medicine will implement the WhatsUp Gold network monitoring solution from Ipswitch to monitor its expanding IT infrastructure. The school is one of six based across the Cambridge University campus and is linked to Addenbrooke's teaching hospital.
WhatsUp Gold Reseller Partner - Grant McGregor Ltd - put forward the Ipswitch software solution that will monitor the connected devices of 2,500 staff IT users across a large campus, the core infrastructure and the environmental conditions of three server rooms. Core infrastructure manager at the school, Stephen Hoensch, describes the challenges that he has been facing.
Read the full WhatsUp Gold case study online here...
Just wanted to say a big thank you to Dan for his help today. Above and beyond and very patient with a beginner like me.

- Read in full
Pegasus Couriers
Daniel Floyd, Pegasus Couriers