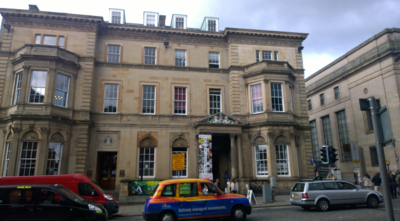 It's that time of year when Edinburgh comes alive with hundreds of shows in the Edinburgh Festival.
We are very lucky to have a wonderfully central venue for our Edinburgh offices and at this time of year a large part of our building (The Merchants' Hall) is let out to a company called Spotlites Theatre.
They provide a wide array of shows for children & young adults between the ages of 2-18 yrs.
The scaffolding is up and the stage is set in venue 278 for the newbies at GM to experience this month long event for the first time.
Some of the longer standing members of the team are less enthusiastic about squeezing through crowds and queues to get in and out of the building for work.....there has to be some downside to working in such a fantastic building I guess!
P.S. Jon certainly recommends a great Fringe show for kids - Billy's Birthday Bash - it gets 5 Stars from him! Must be good!
Just wanted to say a big thank you to Dan for his help today. Above and beyond and very patient with a beginner like me.

- Read in full
Pegasus Couriers
Daniel Floyd, Pegasus Couriers